Megan Rain has a tiny, yet athletic amateur body. And it looks so sexy covered in soapy suds from the bathtub while she leads her man toward the bedroom. You can tell this chick is eager for a hard dicking during the start of our porn video while grabbing his bulge. Sucking him all the way down her throat, Megan makes erotic gurgling noises like she can't get enough!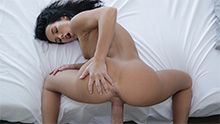 Miss Rain wants a rough, amateur doggystyle fucking.
Sticking her perky ass up for him, our amateur babe coaxes the man toward it. As soon as he slides that dick in, this dude grabs a big handful of Megan's booty for leverage. Porn viewers can see the horny glances back since she loves watching as he thrusts. Not to mention, Miss Rain also has a naughty vocabulary screaming, "Oh, fuck me, baby. Pound your cock inside!" And the guy promptly obeys her commands.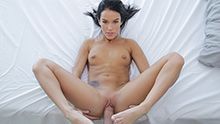 The athletic beauty gives us a spectacular point of view.
During this amazing POV porn clip, Megan never stops running that dirty mouth. However, it's so hot listening to her sexy comments as she rides him like a cowgirl. The beautiful girl moans, "I'm getting close. Keep going!" while humping toward orgasm. Teasing this guy with her amateur sex skills, she twerks those pussy lips around the head of his cock. It wraps around him tightly but glides in a truly provocative way.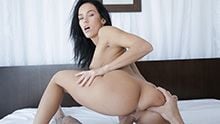 Twerking on her boyfriend's thick porn dick!
After only a few seconds, he can't take the pleasure any longer. Therefore, Miss Rain swaps into missionary position and gazes at her boyfriend. Then she directly says to him, "Give me a good fucking, honey." Honestly, they give our audience an amateur video where viewers can cum along with them. Watch as Megan rubs her sensitive clit, then has a massive, trembling female orgasm!