Carrie Cummings is an amateur nurse who's rushing out the door, late for work. She's slightly agitated because her boyfriend keeps hounding about seeing those big porn tits. He's horny and wants a little attention, but this uptight chick is in too much of a hurry. Eventually, she gives in to his request and lifts up her nurses scrub to show off a nice pair of natural boobs underneath. The two of them both smile, realizing that it has become way too tense and all they need some private time together.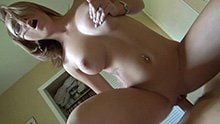 Already late for work, she reluctantly agrees to a quick blowjob.
This beautiful amateur takes off her outfit so it's not in the way and starts going to town. She sucks her man's dick, loving every second of it, but as soon as that cock swells up in her mouth, those cheeks turn red. Carrie gets up for a moment and paces quietly. It's as if Miss Cummings is anxiously debating something, then just when he goes to ask what's wrong, she exclaims, "Screw it, I'll call in sick!"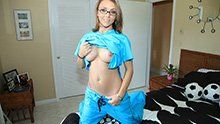 They pull out a video camera to film their hot amateur sex.
Full of excitement, the couple strips down and tackles each other on the bed. It's not often that these two get to play hooky from their adult responsibilities by making a porn video instead! Jumping into it, this amateur babe climbs right on top of him and inserts that dick directly into her pussy. Not a second is wasted before Carrie starts pleasuring herself, grinding and humping like a horny schoolgirl!
It's a good thing they live alone because she's loudly moaning with every bounce on that dick. In and out, he penetrates her repeatedly, hitting just the right spots inside that warm pussy. Honestly, this chick looks so hot! You'd never guess that Miss Cummings, an innocent-looking nurse with glasses, is covered in tattoos underneath her work outfit. Then again, it's also hard to imagine this sexy amateur porn slut playing hooky to fuck her boyfriend on video! He asks, "Was this worth staying home for?" and she responds with an adamant, "Yes!"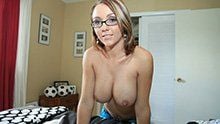 There's something about babes in glasses that are just so sexy.
Carrie's on her knees being pounded in doggystyle with those glasses still on. Not to mention, she keeps looking behind to watch herself have sex on camera! When the guy picks up the momentum, Miss Cummings can't help but lay with her chin down on the bed with that big ass pressed into him. It looks like this girl is about to cum as she grips the sheets tightly and moans out, "Oh! Don't stop. Faster, fuck me faster!"
Grabbing her by the waist, the man thrusts that big cock deep inside his girlfriend. Carrie responds by arching her back, totally focused on the pleasure from that girth. In fact, everyone who sees their porn will be glad this nurse decided to take the day off.