Although Kimmy Granger is a married woman, she still prefers to fuck other men. Instead of giving her husband any sexual attention, this hotwife likes to turn him into a cuckold! Especially when they record a cheating sex video for later. That way, he's able to watch a porn scene of her cumming from another man's cock repeatedly. But this evening, she will be having a wonderful night of romantic sex right in front of him.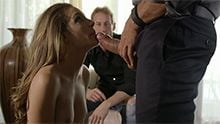 Bondage, vibrations, and intimacy with a new sexual partner.
Our cuckold porn video begins with a touch of bondage by the wife having her hands tied. Then she lays back into the bull's lap while the cuck watches them helplessly. Next, he jams a powerful vibrator into Kimmy's lace panties, causing her to melt in the man's arms. It's so hot seeing Miss Granger give him complete sexual control! Finally, they enjoy a long, deep kiss as he presses the sex toy against her sensitive clit.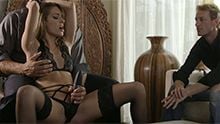 Watching your hotwife become a slut for another guy.
The stranger rests his cock on Kimmy's pouty lips before she eagerly starts sucking it. Between gulps of dick, she asks her cuckold, "Do I look good with this guy's cock in my mouth?" Meanwhile, he just sits on the sidelines watching his slutty wife being face-fucked. All the husband can reply is, "You look great, babe." With her wrists wrapped up in bondage rope, this woman still manages to stroke it as she blows him too.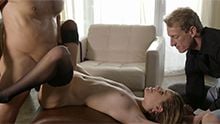 Cuckold porn with a satisfying conclusion of seeing her cum.
The cuckold can't do anything as a dominant man holds his hotwife down and pounds her pussy raw. That's right, sex without a condom! However, Miss Granger encourages him to keep thrusting away. As they fuck, she cums several times from the stimulation of a bigger dick. Up until the end of their cuckold porn video, Kimmy cries out, "Don't stop!" as if she never wants to be penetrated by her beta husband ever again.