Sasha Foxxx loves taunting her cuckold husband like a helpless plaything. Gazing apathetically at the man's cock, his sexy wife seems unimpressed with him during our porn video. In fact, she's still partially clothed and wearing full makeup. But he's naked, which gives off a submissive vibe because this dude isn't going to see her nude body today.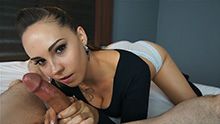 As a bargain, he agreed to become a cuckold after receiving a handjob.
If she strokes his dick until cumming, Sasha gets a wife sharing pass to have sex with a guy who has a bigger cock. So it won't be a satisfying handjob, for him at least! When she begins, her hands barely touch it, gently caressing in the most teasing way possible. Also, Miss Foxxx made a strict rule for their deal, "Absolutely no mouth, lips, or tongue." However, this won't stop her from having some fun too!
Little does he know, every bit of stimulation will come to a screeching halt at the last second. Eventually, she may let him cum, but it'll end up as a ruined orgasm. And this cuckold has no clue, which makes the surprise that much more exciting for her. But now, there are no other men because the focus is totally on him. Later, his dominant wife will have plenty of time for sex once she finds a larger cock to ride.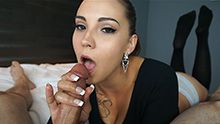 Those deep brown eyes could ruin any man who looks into them.
With her lips so close, yet not touching, it's beyond tantalizing. If this guy is lucky, then Sasha may send a sex clip of herself fucking a new man, making a true cuckold out of him. Best of all, they're filming a porn video so he can watch later and relive his ruined orgasm. Now holding that bulging shaft firmly, she grips it to keep all the cum tucked away inside of those balls.
Once a cuckold shares their wife, they give up the privilege of sex.
As a matter of fact, her sexy body isn't his anymore. But if he's a good boy, maybe she'll let him use a strapon dildo at some point. Resuming our video, the wife smiles deviously at his groans of weakness. Coming closer to climaxing, she suddenly lets go of it once he hits a point of no return. Since the stimulation stopped, his cum oozes out instead of being powerful like a porn orgasm. So it's completely ruined!
People might find cuckolds shameful, but submissive males wouldn't have it any other way. Next, Sasha leaves him covered in jizz because she needs to go get ready. Why you may ask? Well, this hotwife must share her pussy with a stranger now that it's so wet and craving for an orgasm. "Okay… Can I jerk off?" begs a restless husband. Sure, let her cheat when he's not around, as long as she gives him a ruined handjob every now and then!
Timestamps
Below are timestamps for easily navigating to sex positions in the scene.
Source of Porn Clips
Every video is from a premium porn source, and we've included info about adult stars in our clips.
Adult Star:

Sasha Foxxx

Premium Site:

PornhubPremium

Full Movie Length:

21 Minutes