Fresh out of the shower, EllaKai prances around her apartment in a tiny towel, primping her hair and makeup. Her burly Indian roomie catches her naked when he comes in. "Oh gosh," she stammers, "I didn't expect you home so soon!" It's a pretty lie. Actually, she bent over like that because she wanted to entice him with her artfully-posed pretty white ass.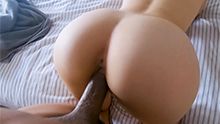 Her lover knows when to slap EllaKai's bottom and fuck her hard.
The guy doesn't speak, he just walks over and gives EllaKai's ass an enormous slap with his big strong brown spanking hand. Her freshly shaved pussy peeps out from under the towel as she gives her guy a huge sloppy kiss. He laughs and throws her down on the bed. This good girl promptly sticks her bottom out for another slap and some friendly fingering. "Holy shit!" she exclaims when her lover grabs her cunt. He quickly plunges three big fingers deep into her pussy, like he owns it.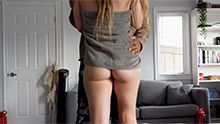 He poses this naked cutie to please himself.
Ella complies like a helpless sex doll as the huge fellow uses his effortless strength to position her eager body precisely how he wants it. He makes her kneel across the bed and starts pounding that hot naked girl's pussy from behind, slamming her entire body deep into the mattress. The camera zooms in for a POV look at his cock, and surprise – it's enormous! The guy's thick sex shaft nails Ella to the bed, and she's helpless under his pounding body. But the instant his sex-hammering slows down, she twerks her pale ass all over his big brown cock.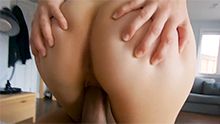 EllaKai spanks her own ass during cowgirl sex.
A smart man doesn't waste that kind of sexual enthusiasm. Ella's lover lies back, positions her on his lap, and smacks her butt again, to get her bouncing up and down on his cock. She enjoys riding him like a cowgirl, so much that she even starts spanking her own ass! Her enthusiastic squirms and moans soon make him mutter "I'm gonna cum" as he squirts a huge load of jizz into her eager wet pussy.