Diana Daniels wants some quick and easy pleasure, so she pulls down her cute pajamas and flashes her hairy pussy at her boyfriend. He swiftly figures out what she wants! He's right there with a powerful vibrator, which he rubs all over the puffy lips of her eager cunt. The half-naked girl pants and moans and thrusts her horny pussy as hard as she can against his buzzing silicone sex toy. She's almost ready to cum when he pulls it away and starts stroking her with his strong insistent fingers.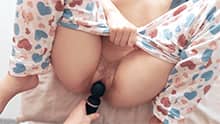 Demanding slaps make Diana work her big booty during sex.
If Diana thinks she's gonna get to cum without doing anything for her boyfriend's protruding erection, he swiftly disabuses her of that silly idea. The lazy little slut finds herself naked and face down with her ass in the air. And that's when we're able to see just how thick her guy's cock is. Then he slams it home in her cute groomed pussy and she can't do anything but gasp in sheer sexual shock. A few hard slaps on her ass soon have her obediently pushing back against his powerful deep thrusts. Moments later this naughty nude minx reaches a sneaky hand back between her legs and rubs her clit furiously while the doggystyle dicking continues.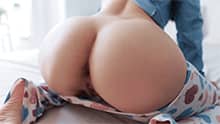 Braced against the mattress with a red ass and a hot hairy cunt.
Several powerful spanks on Diana's rapidly-reddening ass put an end to her sneaky masturbating. As her guy pounds her pussy harder and faster, she needs both hands to brace herself against the mattress. Her breathless gasps get louder and louder as the pleasure starts to overwhelm her.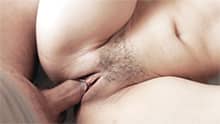 A creampie is the cute nude girl's reward at the end of our video.
On her back with her legs spread as wide open as they will go, this naked, horny hottie quietly whimpers. Filling her hairy cunt full of thick, hard cock, she pinches her clit between two fingers and surrenders herself to all the sex sensations.
As the fuck-tempo increases she begins to squeeze and pinch her nipples too. She almost screams when her guy's hot cum floods into her tight pussy. The camera lingers on the sticky white creampie as it comes oozing back out of her hairy cooch.
Timestamps
Below are timestamps for easily navigating to sex positions in the scene.
Source of Porn Clips
Every video is from a premium porn source, and we've included info about adult stars in our clips.
Adult Star:

Diana Daniels

Premium Site:

PornhubPremium

Full Movie Length:

14 Minutes