Amateur porn star, Isabella DeSantos, flirts with a male friend while out on a walk. Then, she asks if he's okay taking the back entrance to her apartment. Recently, she was asked out by the doorman and would rather not be seen with another man so soon. On their way up the stairs, our girl shows off that tight, little Latina ass by cheekily bending over. Suddenly, she pulls her tiny booty shorts up even higher. That way, everyone can see a sneak peek of a jaw-dropping, cute butt for the porn video!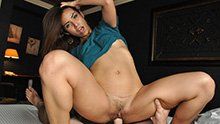 They go inside and continue flirting on the couch together.
When they reach her place, things start really heating up now. Kneeling down in front of the man, Isabella eagerly licks his cock through those boxer shorts. After a few moments of foreplay, Miss DeSantos decides to let him feel how wet she's getting.
Reaching between her legs, he rubs the popular porn star's moist pussy through a pair of thin panties. But our horny babe can't take anymore anticipation and stands up to finally undress. Quickly popping off her bra, she climbs onto the guy's lap to begin humping him.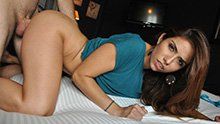 Slithering a frisky hand down the Latina slut's pink panties.
Soon enough, Isabella hops on all fours and begs the man to pound her from behind. Now, this is where she goes wild, screaming out in pleasure while getting fucked. And the amateur girl takes cock like a champion by backing into every thrust. It goes as deep as possible, filling up that warm, wet pussy. Additionally, the porn star keeps turning around to give seductive gazes.
Next, he flips her over to bang in a different sexual position for a while. But first, she wants to kiss his cock again. So, our amateur porn slut slurps away at the tip, then before you know it, climbs aboard to have more sex. Riding on top, this chick loves letting out moans of ecstasy during their porn video!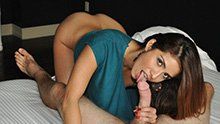 Isabella might be an amateur, but she bangs like a porn pro!
Once a few minutes go by, Isabella kindly asks to be fucked in doggystyle again. Apparently, it's her favorite sex position. Except now, the Latina porn slut prefers doing all the naughty work herself. Twerking that ass from above, the guy stays balls-deep inside her loving pussy. And the look on Miss DeSantos' face shows viewers she wants to pound every last drop of cum out of his throbbing dick!