As this amateur porn video begins, Bailey Brooke catches her boyfriend peeking at their roommate, Ivy Rose taking a shower. Although, instead of getting upset like some girls might, catching him creeping actually puts this smoking hot blonde in the mood for sex! Immediately, she drops to her knees and starts to suck his cock while he continues watching Ivy bathe.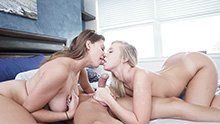 The chick in the shower has no clue what's going on right behind her.
While the other babe is busy lathering up her curvy body, Bailey deepthroats this dude's dick from only a couple feet away! Getting horny now, she wiggles that booty out of those tiny shorts and begins playing with herself, grinning cheek to cheek. At this point, the couple is totally ready to go at each other in bed! Therefore, Bailey drags her boyfriend away from the shower and into the bedroom where they begin filming an amateur sex video.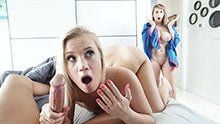 Ivy walks in on the couple making a porn movie!
As our hot blonde is continuing her blowjob, the other chick walks in naked and wrapped up in a towel. She's looking to borrow some lotion but then freaks out after realizing what's going on! Running out of the room embarrassed, Bailey goes to chase her so they can talk about what just happened.
She quickly calms the roommate down by mentioning that it's honestly not a big deal, then asks her to join them in the amateur porn they're making. At first, Ivy shies away from the invitation, but it only takes a little bit of convincing before she becomes stoked to have a three-way!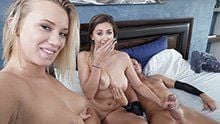 They return together and hop in bed with an excited boyfriend.
As the girls snuggle into bed, Ivy takes the guy's cock in her hand and continues where his girlfriend left off. She lightly sucks on it, giving her own sexy version of an amateur blowjob. All the while, Bailey is sitting back, filming the whole thing for their homemade sex video. However, it's only moments before she wants to move this porn along.
Finally, the girlfriend moves into doggystyle position to get banged by her man. Plus, she can eat out the other amateur babe at the same time! Once this guy gives a few minutes of pounding, he decides it's time to share his cock with the other hot girl too. All three of them are eager for him to fuck Ivy, but what's surprising is when Bailey becomes the first one to film her boyfriend banging this girl on video! Fondling her own big tits, Miss Brooke watches as the roommate moves into missionary position with her legs up in the air. Laying there completely submissive, she's ready to fuck this dude's huge cock.
He's going to make both amateur chicks cum in this porn video!
Bailey and Ivy take turns being pounded hard in their tight amateur pussies by this man. However, they don't want the fun to end too soon so they take a break and start making out. The women alternate between sucking the guy's dick and kissing each other, but it's not long until these freaky chicks want to have sex again!
Both girls get into doggystyle, side-by-side with their big asses up in the air. That's when this guy has a tough decision, which babe is he going to make cum first! Naturally, he chooses his girlfriend because he knows exactly which spots to hit to induce an orgasm fast. When it's Ivy's turn, he focuses all his attention on her, passionately fucking the amateur girl from behind and bringing her on the edge of climaxing as this homemade porn movie fades out.