Watch the Full Video in 1080p (25 mins.)
Crystal Rae is checking herself out in the mirror, admiring how sexy her body looks in some new lacy lingerie. Getting lost in the moment, she starts to gently rub her pussy from the outside of that sexy red underwear. Little does she know, her male friend has been watching the entire time and has been masturbating to the smoking hot view! When Crystal finally notices the guy she strolls over to him with a desire to make her amateur porn fantasy a reality. Gracefully dropping down to her knees, she takes his dick in her hand to stroke it for him!
The guy gets practically dragged onto the bed by this chick!
It's as if this horny girl has been craving cock all day because she almost immediately shoves his entire dick into her mouth. She repeatedly bobs her head up and down on his shaft, while simultaneously looking up at her friend with lustful eyes. At this point, the amateur couple is so infatuated with each other that they slide off that sexy lingerie Crystal was trying on and she straddles him completely naked.
With that porn fantasy still on her mind, Crystal wants to ride this man like she's on camera! Grabbing his cock from underneath her, she plunges it into her pussy all on her own. This amateur chick is taking straddling to the next level as she bounces on that dick like a cowgirl. She grinds and rides her friend like crazy, letting those big tits flop in his face with every motion.
Crystal almost wears herself out from being on top so she bends over onto all fours.
Begging to be fucked from behind, she gets into doggystyle position and slowly backs up her big ass into him, sliding that wet pussy onto his throbbing hard cock. Crystal can't resist the sensations she's feeling and lets out a purring moan every time she slides back into it. The guy grabs that sexy amateur's ass and takes control. He slams his dick deep inside her pussy and thrusts it back and forth in a rough, yet satisfying way.
Things begin to take a turn in this amateur porn when Miss Rae wants to try some crazier sex positions. She is fucked while standing up and balancing a leg on the guy's shoulder, and she takes his whole dick inside her pussy as she's doing the splits! In fact, the hot couple almost falls over while banging due to how hard they're going at it! Needless to say, this entire porn video is definitely worth watching all the way through.
Photos: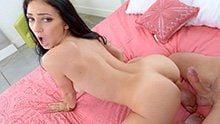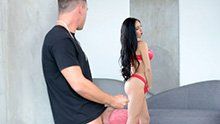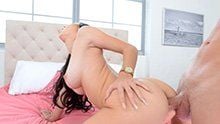 Timestamps:
Below are timestamps that can be clicked on to easily navigate to specific sex positions in the video.
Where can I watch the full sex video?
Every video we upload is originally from a premium sex video site. Below is some information about the adult star in this scene, and where you can watch their full length movie in addition to the free HD clips we upload.