In today's amateur porn video, Layla London puts on her most attractive pair of ripped jeans and goes outside to find a man for sex. In fact, the outfit she's wearing barely covers up her body since those ripes practically expose that tight, young pussy underneath. It's as if this clever, amateur babe has torn the backside completely off the pants to make it so they don't cover her booty even a little. Strutting out of her hotel room, Layla puts on a show for this porn video, shaking that big ass and walking down to the train tracks as seductively as possible.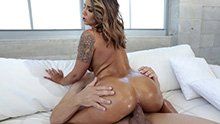 With a shameless vigor, Layla seduces the first man she sees!
Luckily for our smoking hot babe, the first man she meets is a total stud. Before you know it, they're back in the hotel room and she's playing with her pussy for their amateur video. Layla rubs herself eagerly while imagining having sex. Fortunately, the guy wants in on it and whips out his dick for the girl! Miss London sees how big this dude's cock is, then plunges to her knees, puckers up, and plants those pouty lips on him.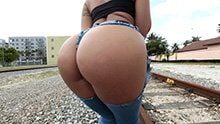 Our amateur chick becomes soaking wet when she sees how huge he is!
Dragging her tongue along the base, she delicately licks all the way to the tip before wrapping the entirety of her mouth around it. The two of them exchange breathless moans of pleasure, quietly acknowledging each other's unspoken desire. Although, the blowjob only lasts for a moment since this amateur porn slut has had the urge to fuck all day!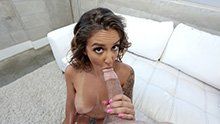 She rocks his world, riding that cock like an amateur porn star.
The horny babe climbs on top of him, ready to have every inch of that dick pounded into her quivering pussy. Layla breathlessly exclaims, "Your cock feels amazing. It's just what I needed!" as she slides down on it. The amateur girl continues bouncing on him, developing a huge grin on her beautiful face from the pleasure. In fact, you can tell she's loving it because Miss London has a look of complete satisfaction!