Our amateur porn video starts off with Lena Paul waking up in a horny mood, hopping out of bed, and scooting her way to the shower. While it heats up to a steamy temperature, the beautiful babe strips off all her clothes and admires her curvy body in the mirror. Proceeding to step in now, she shakes off the groggy haze from a long night's sleep and lathers those nice huge tits. Soap dribbles from her nipples, down past her stomach, and through the forest of groomed pubic hair around her pussy!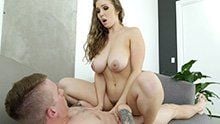 Lena enjoys the shower so much, she's unaware of her roommate creeping.
A guy has been creeping in the bathroom, getting a private amateur porn show the whole time! In fact, this dude's jaw drops when seeing his gorgeous roommate's big boobs, but all he can do is stand by with his mouth-watering. Unable to resist temptation, he pulls out two things: a phone to capture this porn video for later, and his dick to jerk himself off now!
The amateur babe continues lathering those big titties and scrubbing from head to toe. Unaware of the man spying, yet still horny from earlier, Lena begins to masturbate using the smooth lubrication of her hair conditioner. Running it through that hairy pussy, she rubs the oils around, paying extra attention to grazing over her sensitive clit. Surprisingly, they're just a couple of feet away from each other and this chick doesn't even know it!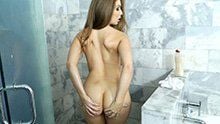 Masturbating at this rate, they both might cum!
Lena's really enjoying it now, playing with that sopping wet pussy and letting the hot shower rain down on her thick ass. Additionally, the roommate continues filming this chick excitedly since he's getting an extremely hot amateur recording. When she's two fingers deep inside herself, the amateur girl finally notices him and lets out a loud shriek! However, that doesn't last long because as soon as she notices his hard cock out, the tides turn.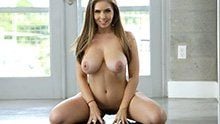 Good thing this thick amateur brunette is even more horny than him!
Miss Paul looks like she's about to scold him, but it's strange that this sexy woman doesn't cover up her big boobs or pussy with a towel. That's when the horny babe yanks the guy closer and rips his clothes right off! She slithers down his chest, falls to her knees, and begins to stroke the man's cock. After a few slobs on his knob, this couple quickly scurries off to the bedroom to take their amateur porn video even further.
They're both soaking wet, but that's the last thing on either of their minds as she lays down and spreads her legs open for him. Finally, he mounts this beautiful girl and slides that dick deep into her moist pussy. These amateur fuck buddies are having an absolute blast together! From doggystyle to cowgirl, the gorgeous curvy woman fucks like a porn star throughout their whole video. In fact, her eyes practically roll back in her head from the sensual slamming she receives! Overall, this is one of Lena Paul's hottest sex scenes that you definitely don't want to miss.