From the beginning of our NoFaceGirl porn clip, viewers are presented with an amazing angle of her big booty. Zooming in close, you can see goosebumps on her buns accompanied by some sexy black panties. In fact, anyone who has an ass fetish should watch this amateur sex video because her thick curves are absolutely delightful!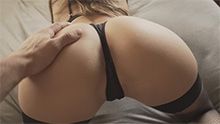 Honestly, that thick ass is so nice it deserves to be in a museum!
Our amateur clip starts with NoFaceGirl's boyfriend pointing a video camera directly at her huge booty, then giving it a few solid spanks. Next, the man rubs that pussy through her thin panties before tugging them to the side and caressing her clit. On a side note, those thighs wearing fishnet leggings and knee-high socks only add more enjoyment to our erotic scene! With a few more good ass smacks, he whips out his dick and penetrates the woman deeply.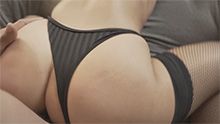 NoFaceGirl rides that huge porn cock in doggystyle position.
Bouncing on him like an amateur porn star, NoFaceGirl knows she's giving the camera some seriously hot action. Although, this chick rides more like a professional performer, which is notably surprising for a homemade video. When he pulls out for a moment, viewers can see how dripping wet the girl has become!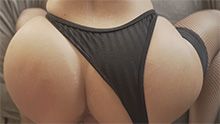 Their mattress squeaks as he lunges that rod inside our amateur babe.
While adjusting positions, that ass looks so amazing in comparison to such a slender waist. Furthermore, the dimples of our amateur's back contribute even more lust! NoFaceGirl has definitely earned an orgasm by looking as sexy as she does today. So her boyfriend skillfully pumps with the goal of making her cum. In fact, he might actually bust a load inside the girl, making this porn video one of our best creampie clips ever!