Ava Alvares is a thick chick who's horny for a linebacker cock. Lucky for her, the guy she's hanging with today fits that position perfectly! All it takes is some booty jiggles from this sexy amateur and onlookers eyes will bug out from watching the glorious sight. Naturally, Ava is already on all fours with that bare booty up, thighs spread wide and ready to fuck like a porn star.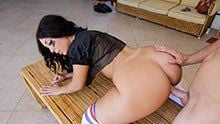 That big amateur ass bounces on his huge cock!
The sex scene transitions to Miss Alvares mounting this guy's massive dick and slowly twerking. Focused on loosening her pussy around him, she eases into the amateur porn, building up more lust by the second. When pleasure strikes, her facial expression instantly goes from tense to full-on satisfaction! Soon enough, she's on top of him riding in cowgirl position with her big ass bouncing up and down.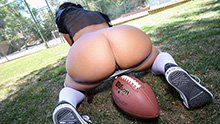 Flipping over onto her back, Ava watches closely as he slides back in.
Ava Alvares seems absolutely intoxicated with his girth since she's practically staring at it during penetration. After every inch has disappeared into her moist pussy, the girl glances up at him with puppy-dog eyes and says, "Pound me, baby…" Like clockwork, he thrusts in a manner that's so delightful it could easily satisfy him, the girl, and every other horny viewer of their amateur porn video!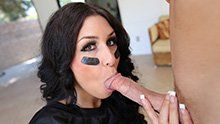 She audibly moans, "That feels so good!" while fucking in doggystyle.
Watching this hot chick having sex from behind is an absolute wonder. However, it's the overlooked foreplay occurring between them that's the best source of lust! Grazing a single hand down Ava's lower-back, the guy shapes out her magnificent curves. Finally, his grip arrives on her thick ass, dominantly grabbing it, and sliding that massive cock even deeper than he has so far.
This yields a guttural moan from our horny babe, and she pushes her entire body back into him. Like a domino effect, the pure feeling of being buried inside each other launches them both towards cumming!
Timestamps
Below are timestamps for easily navigating to sex positions in the scene.
Source of Porn Clips
Every video is from a premium porn source, and we've included info about adult stars in our clips.
Adult Star:

Ava Alvares

Premium Site:

TeenCurves

Full Movie Length:

25 Minutes