Porn princess, Lena Paul wears her cute Easter bunny ears today as she leads her boyfriend into bed. Removing those pink panties, it's fitting that they have a fluffy white matching tail. Moments later, our sweet amateur babe pulls out the man's dick for a holiday blowjob surprise! While slurping away, Lena releases a pair of big natural boobs from her outfit.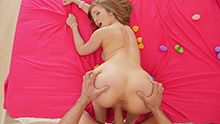 These massive hooters are perfect for titty fucking.
Wrapping them around his shaft, she then glides up and down. As they softly, yet firmly stroke, it delivers a special porn video for Easter! Zooming in now, we get a closeup of her supple nipples. In fact, they're suitable for any hot amateur sex clip on a holiday weekend. That rack continues quaking passionately on him but only slows down when she lets out an erotic moan.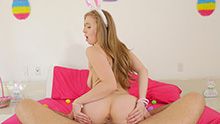 Miss Paul rides his dick, bouncing like a horny bunny!
Those thick buttcheeks make audible clapping noises every time they open and close. Anyone watching can tell Lena's mesmerized from the way she humps with purpose. Then her boyfriend grabs ahold of that booty, helping to guide it at a satisfying a porn angle. After she turns around, he sees a hot view of this amateur's hairy pussy in his face!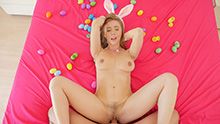 Tension begins to mount as they're both reaching climax.
Looking down at a beautiful woman now, the man plows into her with sexual intensity. "That's the spot! Yes, pound me harder!" Lena cries with delight. "Keep going… You're making me cum!" An orgasm is right around the corner as our couple makes love during today's amateur porn surprise. From a titty fuck to twerking, their homemade video takes the trophy on Easter Sunday!