Wrist and ankle cuffs hold NoFaceGirl in place for some playful BDSM with her boyfriend. She's bent over on a bondage bench, wearing crotchless lingerie that exposes a moist pussy. Not to mention, this position pairs amazingly with swift spanks and doggystyle sex! Before you know it, the man busts out a powerful vibrator to kick our porn video off.
The amateur can't escape, but she doesn't want to!
Once the toy pulses against her clit, it makes NoFaceGirl's body quiver from pleasure. Helplessly, she emits guttural moans and gasps each time he spanks that big booty. Clearly, our amateur girl is accelerating toward a satisfying orgasm. But the boyfriend pulls their vibrator away just when she's about to cum. Then he teases that pussy, causing her to howl in sexual frustration.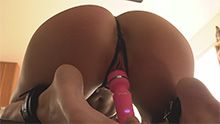 "Oh my gosh, I'm cumming!" shouts our porn goddess.
Showing some mercy, this guy presses the toy on NoFaceGirl's clit and leaves it there. Feet arching now, that whole sexy body spasms while having a sweet BDSM climax. Afterward, she receives three sudden ass slaps, just to watch it jiggle a few more times. Finally, he whips out his dick and starts fucking her from behind.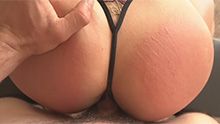 Maneuvering between the girl's crotchless panties.
Our amateur stays strapped on the bench during their whole bondage porn video. And they're both enjoying how vulnerable of a position she's in. Repeatedly spanking her, our POV angle from the camera shows that booty turning red. When the guy's breathing becomes heavy, NoFaceGirl's groans of delight get louder. Their bodies press together at an increasing tempo, then he exclaims, "Oh, fuck!" as the two have simultaneous orgasms.
Timestamps
Below are timestamps for easily navigating to sex positions in the scene.
Source of Porn Clips
Every video is from a premium porn source, and we've included info about adult stars in our clips.
Adult Star:

NoFaceGirl

Premium Site:

PornhubPremium

Full Movie Length:

15 Minutes