Pretty young blonde, Alex Grey discovers a few butt plugs in her stepbrother's bedroom. Therefore, she goes online to figure out what they are. That's when this innocent amateur stumbles upon an anal porn video and loves it! Feeling frisky now, the curious stepsister can't wait to masturbate with his sex toys.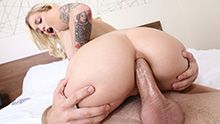 Shoving the biggest butt plug deeply into her amateur asshole.
After a deep breath followed by a small moan, Alex penetrates that booty for the first time. Then she says out loud, "It feels so good!" once settling into the delightful pleasure of anal stimulation. Now all this ruckus draws her stepsiblings attention. And it causes him to catch our satisfied amateur red-handed! However, the naughty blonde just sits there grinning with devious intentions.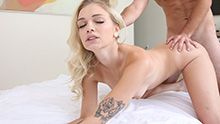 Meanwhile, her porn video from earlier is still playing.
The man becomes visibly upset since Miss Grey was masturbating on his bed. So he starts shouting, "Are you watching porn in here?" and "Wait, those are my girlfriend's toys!" Normally, you'd feel embarrassed at this point, but Alex has only gotten hornier. Furthermore, the stepsister craves an anal pounding from a real dick!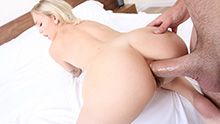 Going straight for his crotch then finding out he's already hard.
All objections vanish once her moist lips wrap around his cock. Next, the guy says in a stern voice, "You're a bad little stepsister!" when he penetrates Alex's tight amateur ass like previous porn clip. Now relentlessly fucking her in the butt, she cries out, "You feel way better than those toys!" while getting increasingly close to anally orgasming. Then Miss Grey's final words are, "I didn't know it'd be so amazing!" as our sex video ends.