Today, we get to watch Uma Jolie vigorously twerk on a huge cock. And if you know much about social media babes, then this is a top-rated Sommer Ray lookalike porn video! To be honest, it's rare to find a hot amateur girl who does all of the fucking, letting her man relax and enjoy it. But she has a truly selfless personality, which you'll see throughout the scene.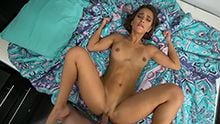 Wow, this girl sure can twerk like a top-rated porn star!
Miss Jolie prefers being in control of sex since it's absolutely thrilling. And our curvy amateur porn star works her booty up and down the cock with ease. Also, it's alluring seeing that big ass thrust so effortlessly. Plus, the glistening slickness of her pussy proves how aroused she is! Uma says, "Your dick feels thick…" while riding him. Even though this dude can barely talk, he sort of growls, "You love it?" Yes, that's obvious!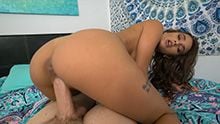 Sinking balls-deep inside a wet amateur pussy.
Every guy adores it when amateurs spread their legs for them. "Fuck me, baby!" she moans with those ankles lifted up high, grabbing one with each hand. And this widely opens her crotch so he's able to thrust as far as possible. Next, the man gently grips Uma's throat because lots of women get turned on by a bit of light choking porn.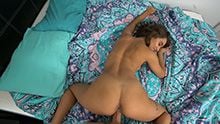 Showcasing her sex skills once again by riding a huge dick.
With that alluring ass arched, he slides his thick cock in from behind. "Yes!" she encourages him, inching closer to an orgasm. On a side note, the best part of any amateur porn video is when our stars get so lust-crazed, they forget it's on camera. Twerking out of control now, Uma's full of pleasure. As she's about to cum, our girl stays completely focused on the sensations of her sex partner's unstoppable fucking.