"Everyone secretly calls you a DILF," says Mandy Muse to her friend's attractive father. "You know, a dad I'd like to fuck!" Luckily, his daughter is nowhere to be found. So the man jumps at the opportunity to bang this hot young girl flirting with him. And it doesn't take much seduction since he was ogling over her ass in those tight booty shorts and a sexy crop top!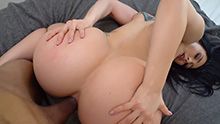 Making it a loving encounter, instead of only filming porn together.
Our sex clip skips ahead to show these two shameless adults stripped naked. Fortunately, they decided to film the whole thing for a homemade amateur porn scene. Mandy's already sucking his cock, simultaneously stroking it with both hands.
And the hot dad in our video? Well, this guy's day just got even better after she takes a short break from slurping on that dick. "I prefer mature men," mentions the horny amateur girl. "So we shouldn't make having sex a one-time thing." Then, she goes straight back to giving a blowjob, gulping it down her throat while looking up to gaze at him.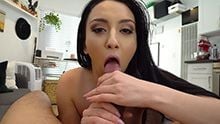 Completely unaware that older men have serious sexual stamina.
When Mandy lies back on the bed for a deep DILF-dicking, it shows a lack of experience with older guys. Simply put, our impertinent young hottie asks him, "You're not going to cum too soon, are you?" No, honey, that's your jackrabbit amateur friends who can't pleasure a woman. Now you're fucking a real man!
"I've never done anal sex before," Miss Muse moans after the dad slides it into her huge booty. But soon, she becomes more enthusiastic once that tight asshole loosens up. In fact, this provides the amateur babe a new kind of sensual satisfaction. Truly, that's a unique part about young horny women. They're open to fresh sexual experiences! And it's all caught on video for your porn viewing gratification.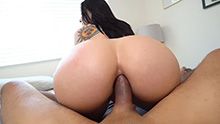 Anal twerking lets amateurs flaunt their big asses.
Eventually, this big booty babe yearns for another taste of anal porn action. Therefore, Mandy gets into a doggystyle position with her lower back arched nicely. Meanwhile, the girl eagerly reaches to spread those huge ass cheeks apart so he can go far inside.
"Oh, yes…" she sighs each time that cock drills deeper than it's ever been before. Now let's bring attention to what people watching our porn video are thinking. Of course, no one can look away from her magnificent booty and how Miss Muse twerks in rhythm with the fucking. It's basically like she's giving a lapdance, but what they're doing goes way further beyond. Finally, the happy father exclaims, "You've got amazing curves, baby!" when our amateur porn clip concludes with a satisfying anal creampie.
Timestamps
Below are timestamps for easily navigating to sex positions in the scene.
Source of Porn Clips
Every video is from a premium porn source, and we've included info about adult stars in our clips.
Adult Star:

Mandy Muse

Premium Site:

PornhubPremium

Full Movie Length:

27 Minutes