Kirsten Lee is working as a housekeeper for a man that she swayed into giving her a job. You see, this chick is somewhat of an amateur at it, but you would've never guessed based on her convincing confidence. The guy mentions he normally leaves housesitting to his wife, but she's traveling so they're practically forced to hire help. Understandably, these two are hesitant to leave such a beautiful woman that they don't know well with a set of keys to their home. Therefore, he innocently sets up a nanny cam to keep an eye out from afar.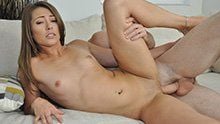 Kirsten has a tendency to get overly comfortable when she's all alone.
Unaware anyone is spying on her, the gorgeous girl diligently carries out each duty required on her first day of work. After getting the majority of the responsibilities completed, Kirsten takes a break to lay down on the couch and look at her phone. One thing leads to another, and she stumbles upon some hot amateur porn online. The naughty housekeeper looks around to make sure no one is there, then sinks further into the sofa and spreads her thighs.
Running those fingers softly up the hem of her panties and pushing them to the side, this gorgeous tattooed brunette reveals her tight young pussy. She quietly plays with her clit while still watching the porn video on her phone. Every few moments she lets out muffled sighs, which gradually become full-on moans escaping her lips. Nervous that someone may have heard, she looks around once again but is lulled back into relaxation when there's no reaction.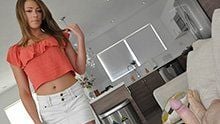 The client has been watching a private porn feed unfold on his sofa!
Fed up with this naughty slut masturbating in his home, the guy comes out and reveals to Kirsten that he was watching through a spy cam. At first, she doesn't notice him sneaking up, which conveniently gives the guy front row seats to this horny chick touching herself. When alerted of his presence, the beautiful amateur rapidly jolts up and immediately starts apologizing in sheer embarrassment. Caught red-handed!
The owner is furious and scolds Miss Lee, "You're my housekeeper. I'm not paying you to fuck yourself on my couch!" He goes on exclaiming that what she's doing is basically stealing because instead of doing work, she's busy masturbating to porn.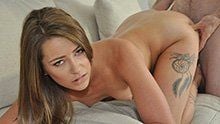 There's only one way the horny amateur can fix this!
Apologies from Kirsten quickly turn into suggestive looks when she notices that the guy has a raging hard-on. Although, It's pretty obvious he became erect when watching Kirsten through the personal porn feed on his spy cam. Attempting to seduce him now, she tells her boss that nobody will ever know, including his wife. At this point, he desperately wants to have sex and doesn't even slightly resist any advances.
Our favorite horny babe goes straight for his pants zipper with intentions of making her amateur porn fantasies a reality. In fact, Kirsten has a look of feverish lust as she gazes up and licks her two front teeth. Opening widely, the girl then slides that throbbing cock deep into her mouth!
Calling this seductive woman, 'Horny' would be putting it lightly.
"Mmm…" she moans as the anticipated taste of pre-cum leaks into her mouth. Unable to resist keeping his hands off for any longer, the guy grabs Kirsten by the ass and lifts her up. Next, they lay down on their couch together with the amateur slut straddling on top. She wraps those pussy lips around him with ease and begins to bounce on that dick. Pumping back now, he's completely in sync with this girl's gyrations.
Overall, Kirsten Lee is a one-of-a-kind babe that loves fucking like it's something right out of her beloved amateur porn! They progress this homemade video by guiding the naughty maid into doggystyle position. Beyond any doubt, the deal is sealed when she visibly climaxes while having sex! As long as these naughty adventures are kept secret, this is definitely a housekeeping arrangement they can both stay satisfied with.
Timestamps
Below are timestamps for easily navigating to sex positions in the scene.
Source of Porn Clips
Every video is from a premium porn source, and we've included info about adult stars in our clips.
Adult Star:

Kirsten Lee

Premium Site:

Mofos

Full Movie Length:

41 Minutes