Watch the Full Video in 1080p (42 mins.)
After taking a short walk with to her apartment, amateur porn star Isabella DeSantos tells her guy friend that she needs to take the back entrance to her place. She had been asked out by the doorman recently and didn't want to be seen with another man so soon. On their way up the stairwell, she decided she wanted to show off her tight little Latina ass by bending over and pulling her tiny white shorts up even higher, letting everyone sneak a quick peek at her cute butt.
They get inside and chill out on the couch together.
Once they reached her place, things start to really heat up as she knelt down in front of the guy and started eagerly kissing his cock through his black boxer shorts. After a few minutes of foreplay, she begs him to feel how wet she's getting. So he reached down between her legs and rubbed her pussy from the outside of her panties for a few moments. She couldn't take one more second of anticipation and stands up to undress for him. Isabella popped her bra off and climbed into the guy's lap to begin grinding on him while placing her frisky hand down her pink panties.
This horny Latina babe can't wait to be fucked!
Soon enough, she gets on all fours and begs her man to start pounding her pussy from behind. This is where the Isabella really starts to go wild, screaming out in pleasure while getting fucked. She takes the cock like a champion, backing into every thrust to get it as deep as possible. You can tell she absolutely loves doggystyle. In fact, the whole time the porn slut kept turning around to eye-fuck the hell out of this dude!
Next up he flips her over to bang in missionary for a while, but first the amateur girl wants to kiss and lick his rock hard cock. She sucks and slurps her way up and down the tip of his dick, and before you know it Isabella is ready to get fucked again! She bounces and rides on top, moaning and screaming in ecstasy the entire time.
Isabella may be an amateur, but she bangs like a porn pro!
After a bit, she asks to be fucked in doggystyle again. It's pretty apparent that this is her favorite sex position, except this time the amateur babe wants to do all the work herself. She twerks her ass while the guy is balls deep in her soaking wet pussy. The eager look on her face shows you that she wants to work every last drop of cum out of his dick.
Photos: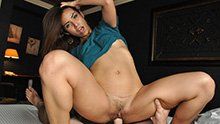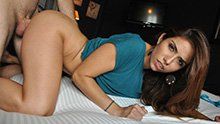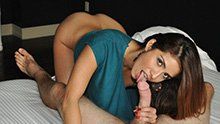 Timestamps:
Below are timestamps that can be clicked on to easily navigate to specific sex positions in the video.
Where can I watch the full sex video?
Every video we upload is originally from a premium sex video site. Below is some information about the adult star in this scene, and where you can watch their full length movie in addition to the free HD clips we upload.