Megan Sage is going about her day when, unfortunately for her, the pipes in her bathroom begin leaking. Since this girl's an amateur with home repairs, she gets in touch with a professional to take care of the burst. Meanwhile, the hot babe decides to watch some porn outside while sunbathing. Soon enough, a plumber stops by and she answers the door wearing a sexy bikini!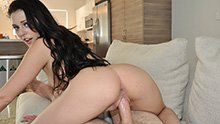 She's horny from watching amateur porn while waiting!
While the guy fixes the pipes, Megan does her best to seduce him by changing out of that bikini. It's difficult for the plumber to stay professional with this gorgeous chick standing next to him in only a towel. She remarks, "I'm so glad you were able to come over so quickly and take care of me…" to hint at him that she's just an amateur little girl and needs a big strong man to take care of her.
Now walking away, Megan pulls the towel up enough so that her hot, round booty peeks out from the bottom of it. She's giving him a porn-style teasing, and consequently, the guy begins heavily breathing while watching her shake that big supple ass.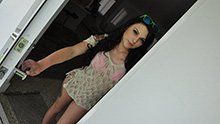 It seems that this beautiful babe wants a different kind of piping today.
The woman goes to relax on the sofa and turns on the same porn from earlier while he continues working. Clearly, Megan's trying to seduce him since she's still in direct view of the plumber. When the man completes his job, he goes up to Miss Sage, who's naked and watching porn, and hesitantly says, "I'm finished with-" before getting cut off by the amateur babe. She says in an alluring voice, "Can you tell I've been trying to turn you on?" and all this guy can do is stumble over his words.
Honestly, Megan looks extremely sexy with the towel now draping off of her gorgeous nude body. Moving her head down towards his pants zipper, she whispers, "Let me suck your dick. You're such a hunk and I want you bad…" while pulling out his already erect dick. Miss Sage gives that cock a few gentle tugs before grazing over it with the edges of her teeth. Suddenly, this plumbing job turns into a blowjob when she starts sucking it eagerly. By what we see, Megan is no amateur at foreplay!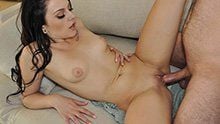 Toppling backward on the couch, they're making out like a couple in love.
She mounts him in reverse cowgirl position and pushes her big ass down on his massive plumber dick. Her pussy completely engulfs it, and they moan in unison as he feels the warm, welcoming walls inside the girl. Slowly grinding on top, she makes sure to savor every inch of him. Megan acts like a porn star in this sex scene, riding in epic delight! In fact, the way that thick, amateur's ass coasts along him looks like it was made for porn!
Timestamps
Below are timestamps for easily navigating to sex positions in the scene.
Source of Porn Clips
Every video is from a premium porn source, and we've included info about adult stars in our clips.
Adult Star:

Megan Sage

Premium Site:

Mofos

Full Movie Length:

34 Minutes