This amateur porn star goes by the name, MorningPleasure. But that's exactly what she gives with her long blonde hair and a glimpse of a beautiful face. Displaying those big tits and curvy hips, this babe models some sexy lingerie for the viewers. Then with a shy smile, she teasingly wags her finger at the camera.
Kneeling down and licking the tip of her boyfriend's cock.
The man has an amazing POV angle as she pulls aside those panties, eager to accept his dick. But before having sex, our amateur model lets out a luscious moan and fingers herself to loosen up. Finally, when she's at the peak of lust, this dude slides into that tight, wet pussy with ease. By the looks of it, MorningPleasure's about to host one of our most top rated and hottest porn videos!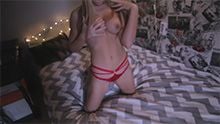 Watching this porn slut bounce on him becomes almost hypnotic.
Gaze at that sleek lower back as her boyfriend guides those huge booty cheeks onto his cock. Furthermore, listen closely to the amateur girl's compelling sighs and squeals. Because she's enjoying the sex more than any of us! In fact, each thrust against him generates a soft, audible pat against this guy's abs. – And it sounds so incredibly hot!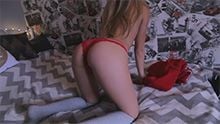 During the entire video, she moans like a horny amateur!
Try not to drool while watching MorningPleasure get fucked by her man in today's amateur porn video! Honestly, their doggystyle sex may cause some erotic tingles without even touching yourself. But it's easy to see why since the way she rides his dick like a porn star gives a vivid image of being inside that pussy. When this horny girl finally reaches orgasm, it'll have viewers rewinding the clip to see it over again.
Timestamps
Below are timestamps for easily navigating to sex positions in the scene.
Source of Porn Clips
Every video is from a premium porn source, and we've included info about adult stars in our clips.
Adult Star:

MorningPleasure

Premium Site:

PornhubPremium

Full Movie Length:

12 Minutes