Mia Malkova is chilling on the couch when her man silently arrives at home. Looking forward to seeing his girlfriend all day, he sneaks up from behind with a sensual surprise. Instantly, she perks up after feeling his familiar touch grasp her shoulders and begin lightly massaging. "Oh…" Mia sighs as his hand inches up the girl's neck and strokes the back of her head. Clearly, this guy knows how to touch his woman because she's melting with satisfaction!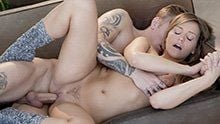 He's still dressed in business clothes from the office, but not for long.
Likewise, this hot girl has anticipated seeing her boyfriend as well. In fact, Mia was about to have a masturbation session because she has been horny all day! Fortunately, he showed up just in time to give his girlfriend the passionate, nude love she desires. Therefore, the eager babe goes directly for his belt buckle, then whips out that dick to start blowing him!
She bends over just enough that you see a sexy view of those thin, white panties. However, the real prize is her quivering, naked pussy underneath that he's going to fuck soon. Licking from his shaft to the tip, she makes his cock become sturdily erect. The only thing that's on this couple's mind right now is the thought of him cumming balls-deep inside of his girlfriend!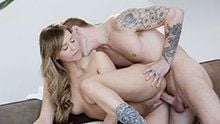 Their sex is so vivid that you just want to reach out and grab Mia's ass!
They both strip completely naked, then flick this horny girl's soaked panties to the side. Resting the weight of Mia's upper body on their couch, she arches that lower back and prepares for penetration. On a side note, Miss Malkova's perfectly groomed hair around her nude pussy looks absolutely stunning! In fact, it's styled in the shape of an inverted triangle, which makes this babe so utterly enticing while she's fucked in doggystyle position.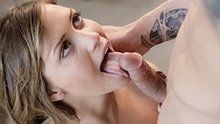 What better way to end this romantic lovemaking than with a creampie!
Mia and her man are spooning each other with her thighs spread wide so viewers can continue gazing at that sexy groomed crotch. Next, his hands promptly wrap around that slim waist, and the erotic naked girl presses her curvy ass back into him.
Finally, these two are comfortable and ready to continue making passionate love. Although, this time they're not stopping until he cums! She can feel his girth pulsing against her inner walls as the man comes closer to orgasming. Miss Malkova whispers, "Creampie me, baby…" while slowly closing those legs to the tempo of him pumping.