Elsa Jean is a cute blonde girl who has just about had it with her stepbrother coming into her room begging for sex. They've secretly hooked up for a while now, but she's worried their parents might eventually find out. Luckily, Mom and Dad have already left for work today, so there's zero chance of them walking in while they're naked in bed together!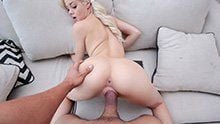 Clearly, he gets a kick out of fucking girls who have boyfriends.
While removing her tiny panties he asks, "So did you dump that guy?" to which she replies, "Excuse me, that's none of your business!" But based on her predictable reaction, Elsa's obviously still dating someone. The guy states, "If we fuck, then you're totally cheating on him!" That's when his stepsister hastily says, "What we do together doesn't count as cheating." Without a doubt, this dude has an intimate relationship with his family member.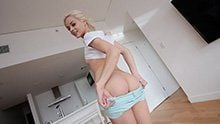 The girls actions certainly don't match her innocent words.
Earlier, Elsa was acting annoyed with him approaching her for sex, but now she's stripping nude while smiling! The blonde babe snuggles up near his crotch, then scandalously fondles around in her stepbrother's boxers. Pulling out a half-limp dick underneath, she starts giving a blowjob, casually sucking on him like a popsicle until he becomes hard in her mouth. Frantically slurping now, this naked girl is slobbering on his knob with some serious lust!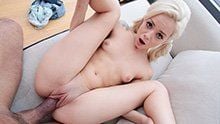 Judging by Elsa's shapely ass genetics, her mom must be a total MILF!
That big, natural booty looks unquestionably amazing on this babe's thin nude body. Honestly, you can't even blame the guy for wanting to get a piece of his super hot stepsister. Grabbing onto that ass with both hands, he aligns his cock with the girl's pussy and slowly penetrates her. Moaning loudly, she's taking full advantage of the alone time together while their parents are gone.
Timestamps
Below are timestamps for easily navigating to sex positions in the scene.
Source of Porn Clips
Every video is from a premium porn source, and we've included info about adult stars in our clips.
Adult Star:

Elsa Jean

Premium Site:

SisLovesMe

Full Movie Length:

42 Minutes