Kelly Diamond wears nothing but her panties while strolling around the house, having a lazy Veterans Day weekend. In fact, this dude is having the time of his life watching a nude girlfriend as she walks around with no shirt on. Noticing that he's spying like a voyeur, Kelly takes her boyfriend by the hand, then leads him to a comfy sofa to have hot sex on their day off.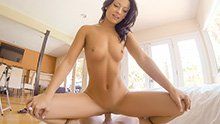 They're both totally nude and relaxing together on the couch.
Slipping those turquoise-colored panties off, Miss Diamond strips naked and bends down toward the man's crotch. Taking that dick in her hand, she begins giving him a relaxing blowjob. It's pretty quiet, so the only sound viewers can hear are sucking sounds from this sexy girl's lips on his balls!
When he's all lubed up, Kelly mounts her boyfriend in cowgirl position, routinely slipping his big cock into that moist pussy. Skillfully grinding on him now, she sways her nude body and easing into their sex. Once the girl's all settled in, our gorgeous chick bounces up and down, riding like many times before.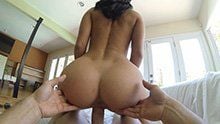 Kelly Diamond's thick ass looks so hot bouncing in reverse cowgirl!
Shortly after Kelly turns around to continue fucking, the guy grabs this babe's thick booty in the palm of his hand. While holding on tight, her juicy booty looks so hot as it maneuvers up and down his cock, completely engulfed inside her pussy. Suddenly, our favorite naked girl receives a swift erotic smack on those jiggly buttcheeks, followed by several more sensual taps on that amazing ass.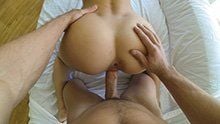 The girl squeals in pleasure as he fucks her in missionary position.
Laying naked on their bedsheets, the babe lightly gasps it while intimately fucking her boyfriend. In fact, you can tell Kelly's starting to zone out from the sheer pleasure because she's now rubbing her clit and squealing. Inevitably, this girl's getting close to orgasming. And we all know since it's written all over the overwhelmingly seductive look on her gorgeous face!