Marsha May is doing her best to seduce the boyfriend of Gia Paige while she's away at school. But honestly, this guy has fantasized about having sex with multiple girls! Although, you really can't blame him because of how sexy Marsha looks wearing a mini skirt with a cute blue bow in her hair. While seductively smiling she says, "I know you like me and we can keep it a secret!" before dropping to her knees to rub the large bulge in his pants.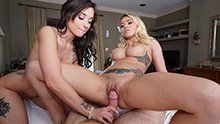 Unable to resist the temptation of this hot girl begging to be mouth-fucked.
Marsha asks, "Does your girlfriend make you this hard?" while stroking him naked in the middle of their kitchen. That's when our beautiful, blonde temptress plunges her pouty lips around his cock, and they both simultaneously let out a huge moan of relief.
After a few minutes of pleasurable sucking, they hear a door open behind them because Gia comes home from school early! By the looks of it, these two cheaters are caught nude together! However, with some quick thinking, Marsha ducks below the kitchen counter with his dick in her mouth.
Hesitantly, he greets his girlfriend who's completely unaware of what's going on right in front of her. That's when the man tells Gia there's a surprise in the bedroom, which easily lures her away. Since our naked cheater babe was previously enjoying that blowjob, she continues sucking while he's still talking to the other girl! At this point, the pleasure becomes almost unbearable because he must keep a straight face.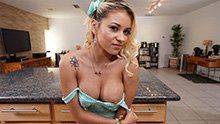 These cheaters are off the hook, but now he has to come up with an excuse.
Marsha thinks it's hilarious how they almost got caught and lets out a snicker, but he doesn't think it's so funny! Joining our other hot girl in the bedroom now, he explains that his surprise isn't quite ready yet. Nonetheless, Gia thinks it's sweet that he even thought about her and wants to give an erotic reward. That's when Miss Paige tells him to lay down and she gets naked! Ironically, this sexy schoolgirl's about to pick up where Marsha left off.
Gia mentions, "I have thought about this all day…" before bobbing on his cock, blowing him in a loud and sloppy fashion. Right when it becomes intimate, our original babe creeks their door open to take a peek at what's going on. Loving the fact that his girlfriend is oblivious about what happened, she stands nude in the doorway and touches herself to the view. Panicking now, this dude tries signaling for Marsha to leave, but when she won't he states, "I'll be right back, babe."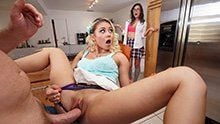 Ditching his girlfriend, he joins Marsha in the kitchen to have sex!
The guy is upset that his sexy mistress keeps acting so risky, yet she only replies, "Shut up and fuck me." Honestly, it's not a good idea to have sex with this chick right now since he just left Gia alone. Still, how can you resist a hot nude girl standing there asking to bang? Therefore, these two start fucking without even caring!
Inevitably, Miss Paige comes out to see where all the ruckus is coming from when she's met with her boyfriend blatantly cheating on her. Now yelling in a frenzy, "Are you serious? You left so you could fuck another naked girl?" and runs away to go sulk about it. Since Marsha gets off to the fact that they keep cheating together, she thinks this whole situation is hilarious.
Following now, the temptress wants to see if she can convince his girlfriend to have a threesome. When they are talking, Gia admits that the real reason she's so upset is that they didn't include her in their sex. Well, this an easy fix since these two hot women simply begin making out and stripping each other naked! Meanwhile, the horny boyfriend stands back watching it all unfold, then eventually decides to join their fun. Overall, it's a wonder that their cheating has turned into a threesome!
Timestamps
Below are timestamps for easily navigating to sex positions in the scene.
Source of Porn Clips
Every video is from a premium porn source, and we've included info about adult stars in our clips.