You have to love eager girls who drop their panties in fifteen seconds flat! In fact, that's how quickly Joseline Kelley gets naked during our sex clip. Today, the only thing she's wearing is a nose ring with cute bobby pins in her gorgeous brunette hair. They jump right into it, and our nude babe looks up at a guy as she wraps her hands around his huge cock.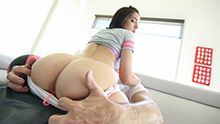 Watching Joseline intimately blow him is a breathtaking experience.
Soon enough, Miss Kelley hops on top of this fellow to ride that lathered up dick. Leaning forward onto his chest, she clenches her teeth with a horny-look painted on her face. However, this dude wants to see that big naked ass twerking, so the man flips Joseline around to let her bounce in reverse cowgirl. When he starts smacking her booty and squeezing those petite cheeks, she really begins to enjoy riding that cock!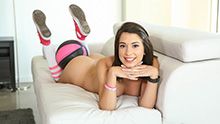 When the camera zooms in close, you can see how moist she has become.
Next, the guy pummels Miss Kelley's face into their mattress, which muffles her delightful moans. Putting his masculine hands around this chick's tiny waist, he guides that pussy back and forth along his huge dick. It's clear that Joseline loves this kind of submission as the man fucks her like a living, breathing sex toy! In fact, his balls slap her clit during each stroke, which our naked girl greets with screams of appreciation.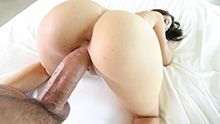 Those little gasps indicate that Miss Kelley might orgasm soon!
Joseline wants to climax now, which you can tell by the look of lust in her eyes. Lying with those nude thighs spread wide, the woman begs for a hard dick to deeply penetrate her pussy. Sliding in and out of the naked girl's cunt, he increases momentum during every single thrust! Finally, when the man is balls-deep inside our horny babe, she suddenly cries out, "I'm cumming!" while quivering uncontrollably with his rod still inside.