From the start of our porn video, Keisha Grey has stripped and is kneeling down about to blow a guy. But before wrapping her puffy lips around it, she worships his cock by lustfully gazing at the huge shaft. "You have a nice booty, girl!" he remarks when the naked chick wiggles and spreads that big ass. On a side note, she even has two sexy dimples above those cheeks!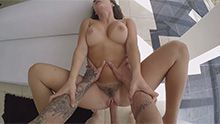 Rubbing Miss Grey's clit makes her desperate for dick.
After they change positions with Keisha on her back, it shows her neatly trimmed pussy hair. In fact, these groomed pubes have a vivid presence throughout the whole sex scene. Pounding faster now, the nude beauty has a mesmerizing look painted across her face. She moans, "Use that dick, baby!" then continues by saying, "Make me orgasm with it!" Apparently, he must be hitting all the right spots inside our horny girl.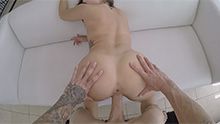 He keeps mentioning how hot this naked goddess looks.
Keisha's thick booty feels so good it could make any dude climax. "Wow baby, you have so much ass to fuck!" he states while banging away. That's when Miss Grey replies, "Yeah, I'm trying to take all your cum!" Honestly, she might be unloading more than one guy's balls during today's sex video.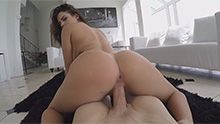 These two horny lovers swap to their final position.
Bent over against the couch, Keisha sighs, "Oh, you feel so nice…" once reinserting his girth. Then after increasing their momentum, this girl's thighs wildly bounce into him. In addition, her big booty swallows every inch of cock, causing it to almost vanish. Our video zooms closer so you can see every intimate sexual detail. And soon enough, the amazing naked babe drains every last drop of cum from him!