A young girl who goes by the name, VampireCollective looks like an absolute goddess. Not to mention, this babe loves showing off that sexy body in some crotchless lace lingerie. Posing seductively on a couch, she moans while fingering her naked pussy. When becoming hornier, it starts shining from those womanly juices leaking out.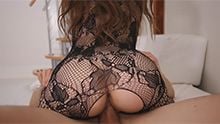 Longing for the first dick available to penetrate her.
This girl's husband can't resist such temptation. So he takes control by roughly guiding her into position for some nude fucking. "Oof, yes!" the seductive goddess moans as his cock penetrates that pussy. When they begin having sex, it's only moments before she's whimpering from pleasure. On a side note, the erotic tension between these two seems absolutely electric!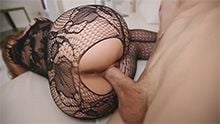 Our brunette babe runs those hands along his body while he thrusts.
VampireCollective wants to feel her man's big cock deep within. Therefore, she climbs on top for a wild naked ride. And after one skillful nudge, the lingerie babe guides it in then starts humping. Synchronizing their sex, our nude beauty gazes at him while rocking back and forth. Honestly, she can't get enough of that dick!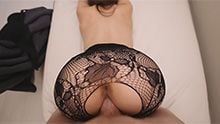 The way this girl bounces, it's like a pleasurable prize from each slam.
Grinding on his pelvis now, VampireCollective hammers down with her firm ass. Meanwhile, those moans and quivers continue getting louder. Suddenly, the naked girl is face down, booty up. Grabbing those hips with both hands, he teases that clit before slipping it inside. During the final moments of our sex video, this couple is only a few strokes away from a simultaneous orgasm.