Moka Mora strikes a sexy pose and reveals her magnificent naked tits. Generally, it's rare for petite girls to have such glorious big boobs. Now she asks a lucky man, "Are you ready to teach me a lesson?" in the most erotic tone, then bends over and shows her tight wet pussy. To put it bluntly, all their foreplay has gotten this busty babe prepared for a long sex session.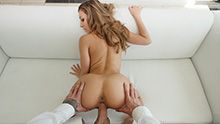 Slurping down his cock and submissively gazing at him.
Those eyes are so wide with lust and joy, it seems like Moka adores the taste of dick. Next, our naked girl leans forward, shoving that girth as deep as it'll go into her little mouth. But this petite princess can't wait anymore since she craves to feel the man's penetration. So the tiny chick mounts him before slowly sliding down that cock. And everyone watching our sex video can see how much Miss Mora is enjoying it.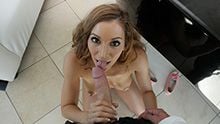 Whimpering as those nude pussy lips stretch out.
"You look absolutely perfect riding like that!" he growls while the busty girl repeatedly humps. When she turns around, viewers see that big ass, which pairs beautifully with her small figure. Because there's so much thickness to grasp, this dude takes hold and spreads those booty cheeks apart. – Wow, what an amazing nude sight!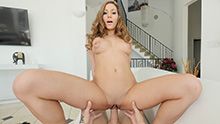 While fucking Moka from behind, sensations start to overwhelm her.
The petite babe loves his powerful thrusts and wants to keep going. So she braces, preparing to slam back just as vigorously, which causes that dick to plunge even deeper. Suddenly, he promises, "Little girl, I'm going to give you a huge orgasm." And the guy grabs her waist with both hands then speeds up his momentum. At long last, their sex rhythm gets faster right before cumming inside this naked goddess!