Aubrey Sinclair is mad at her cheating boyfriend. And she wants to make him jealous, to get revenge! So the young girl begs her stepbrother to pose for nude selfies together. However, this pushy chick also has a naughty stepsibling sex agenda! Now since their first pictures are too tame, our bratty babe insists on escalating the prank.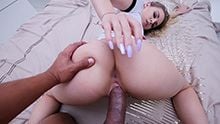 This horny stepsister won't stop until they're both naked!
"Am I a good girl?" Aubrey asks as she reluctantly lowers the straps on her shirt. Then continues, "Let's do a selfie beside your dick!" Unfortunately, this guy is shy because he doesn't want his stepsister to see him nude. "I won't even look at it…" she promises while reaching into those pants to pull out the man's erect cock. Clearly, that was a lie since Miss Sinclair had been planning to give him a blowjob the whole time.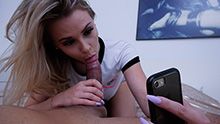 Our sexy babe here has obviously gotten a lot of practice.
At her first chance, the treacherous stepsister starts licking him like a lollipop. Then a blast of precum shoots out as soon as the naked girl's mouth grazes against it. "Wow, you seem like you're enjoying this…" Aubrey says while looking up submissively. Next, she gets more enthusiastic by deepthroating the guy until he's gasping for breath!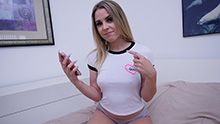 Presenting her big ass for a point-of-view fucking from behind.
The stepbrother's nerves are now calmed once sliding into the girl's wet pussy. And it only takes about a minute of vigorous pounding that naked booty until she exclaims, "I'm cumming!" But they aren't done yet because, after a quick orgasm, this babe goes to suck his dick again. Stroking it in a circular motion, Aubrey sticks out her tongue, implying she's looking to swallow a big load of cum. – Now that'll make this girl's boyfriend jealous!
Timestamps
Below are timestamps for easily navigating to sex positions in the scene.
Source of Porn Clips
Every video is from a premium porn source, and we've included info about adult stars in our clips.
Adult Star:

Aubrey Sinclair

Premium Site:

SisLovesMe

Full Movie Length:

37 Minutes