During today's nude video, Lacy Channing rides a guy with her incredible big ass. Shortly after climbing on top of him, she elegantly wraps that dripping wet pussy around his dick. As soon as it attaches, the man groans with appreciation. Honestly, he can't help himself since this kind of sexual satisfaction feels so amazing!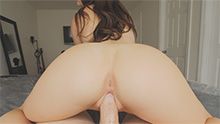 The naked woman humps like a girl who's been craving sex for weeks.
Every time she stares at him, we're able to see a solemn look in this chick's sexy green eyes. Then when the focus goes back to riding, attention shifts to those two hot tattoos right above her huge ass.
Lacy truly knows how to seduce men, solely with that alluring naked body. Next, our beautiful girl slows the grinding down to more calculated, delayed strokes. "Yeah, I'm liking that, baby…" he exclaims. But the nude woman only smirks because she's already certain how pleasurable it must feel.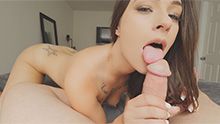 Submissively pulling those knees all the way past her shoulders.
Now laying back, Miss Channing announces she wants the man to fuck her. And this gives us a mouthwatering view of Lacy's sexy frontside, waiting to be penetrated by a dick. At first, he teases the naked girl, slapping his heavy cock against her eager pussy lips. Eventually, our serious chick begs, "Fuck me already!" while raising those eyebrows up obediently.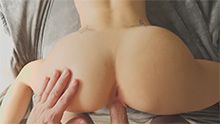 Everyone watching can see how much she yearns for him to stick it inside.
Unable to wait for a second longer, the guy penetrates that slippery nude cunt. Before long, he's banging this girl so roughly, her belly button jewelry rattles! And Lacy's sober eyes roll back as she becomes overwhelmed with euphoria. In fact, all our horny babe can do is grab fistfuls of a blanket then hang on tight! Slapping sounds from their hot sex bounce off the walls. But those are muffled by our naked girl's sensual moans.