Ariana Marie is a sexy young girl with a perverted stepbrother. Basically, this guy keeps threatening to share an embarrassing secret of hers. Surprisingly, she actually agrees to buy his silence by giving a small handjob. But after not cumming from such a tiny amount of stimulation, he asks for a blowjob instead. "I'm not putting my mouth on your cock!" she yells, yet has no choice. So the tiny girl gets naked, then starts licking her sleazy stepsiblings dick.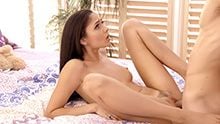 Gullible Ariana falls for smooth sexual trickery.
Our blackmailed beauty doesn't know how to make him cum fast from a half-assed blowjob. Therefore, Miss Marie reluctantly consents to another sexy suggestion. "Let me put the head inside your pussy. It'll go faster, and we can stop after a few seconds." So lying there naked, the timid girl agrees, "Alright, just a little, okay?" Once it goes in, Ariana still seems hesitant, but soon realizes how good his cock feels.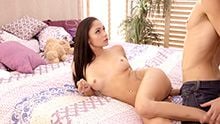 That whole, "Just the tip" nonsense has been completely forgotten.
The sight of her nude and submissive makes this man excited to have full-on sex. But he gently pumps, ensuring that his stepsister enjoys it just as much. Soon enough, our naked girl lights up with a tiny smile then says, "If you wanted to fuck me, I expected it to be a little harder." Almost caught off-guard he replies, "Think you can handle my girth?"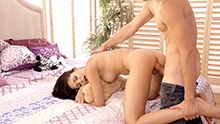 A naked girl ready for taboo stepsister fucking.
Now, these two are going to finish with some rough banging. So an opportunistic man throws this chick down on her side then slams that pussy from the rear. She flops onto a pile of stuffed animals, shoving that petite nude ass up for deep dicking.
On a side note, this babe hugs a big teddy bear while being solidly reamed from behind. Naked lower bodies slap against each other in a hot stepsister sex scene. Throughout the second half of our porn video, Ariana fucks toward a surprise orgasm she never would've expected. Complete with girlish groans and a lovely pounding!