"You can do whatever you want with me…" says Indigo White while wearing a hot skintight outfit. Today, she's cosplaying her favorite anime babe, Samus! And the shiny bodysuit tightly covers every perfect inch of her thick, yet petite curves. Everyone from 'Metroid: Zero' fanboys to otakus who love nude cosplays will enjoy our video.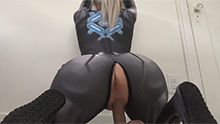 Unzipping the costumes crotch to reveal she's not wearing panties!
Once on her knees, it shows us an excellent view from behind. She spreads that pussy with gloved-fingers then pushes a tiny butt plug into herself. Miss White gives an expression which looks like it feels amazing. But our half-naked girl still has much more rough ideas planned. Next, she shoves a huge double-ended dildo inside and starts frantically moaning. In fact, just the tip is enough to set off our sexy cosplay babe!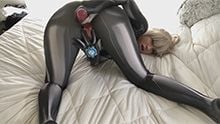 Monster-sized toy makes the girl catch her breath.
Riding up and down now, she never breaks eye contact while masturbating for us. Since her adult toy stays fastened from a suction-cup, it's so easy to imagine having sex with this naked girl. Next, Indigo turns away, showing the camera a better view of it penetrating. When she eventually climbs off, the rubber dick gleams from her wet pussy juices.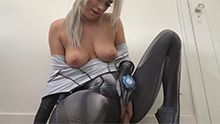 Samus lookalike has zero regrets about her nude Metroid porn video.
Our cosplay queen faces us while squatting on the dildo, then frees her tits from the tight bodysuit. Now flaunting some surprisingly big boobs, she continues bouncing toward orgasm. Rubbing wildly at her clit, Indigo uses nothing but those powerful legs to stay in position. Finally, she squeals and cums so hard that the girl's nude body shakes uncontrollably. – Any video game porn lover should watch this lust-filled ending!
Timestamps
Below are timestamps for easily navigating to sex positions in the scene.
Source of Porn Clips
Every video is from a premium porn source, and we've included info about adult stars in our clips.
Adult Star:

Indigo White

Premium Site:

PornhubPremium

Full Movie Length:

20 Minutes