Hollie Mack is playing around with a mini-football and hiking it towards her boyfriend. Skillfully catching it, the man decides to tease this cute girl by playing keep-away. Hiding it behind his back, he holds the ball where it's barely out of reach. Eventually, the joking ends when this guy picks Hollie up by the booty and they waddle to their bedroom to have tons of sex!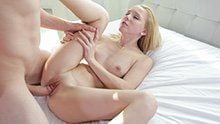 Beginning with a blowjob is the best way to warm up for sex.
Already naked, the horny girl's tongue licks up and down his hard dick. She covers it in spit, then swabs it clean with a nice, wide gulp using her mouth. At this point, he's practically gushing precum, but the babe stays on top of it by swallowing every last drop of juice that comes out. In fact, every few licks Hollie looks up at the man to silently show that she's enjoying the blowjob as much as he is.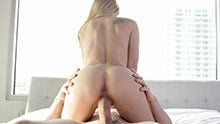 Like you may have guessed, this naked girl's equally wet as she is horny!
Holding onto Miss Mack's shoulder, he slides that cock into her pussy from behind. Guiding that nude body along his shaft, she shuts her eyes to focus on the sensual tingles occurring. You can tell Hollie's loving the dominant fucking because her jaw is clenched while looking up at the ceiling. In fact, every individual thrust satisfies the erotic tension between them!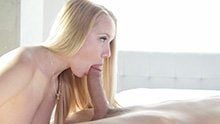 Hollie Mack definitely savors the pleasure of sex more than this guy.
With one leg in the air, this babe continues having sex in a spooning position. Intensely grinding back on the thick dick pounding her, she's adoring every single inch of his girth. They both seem equally as obsessed with each other, but that's expected since cute naked girls like Hollie Mack are rare to come by! Overall, their intercourse is absolutely mouthwatering to witness in our hot sex video.