Today, Lena Nicole is stripping naked for viewers in an amazing remote setting. At a safe mountain clearing behind her house there's an absolutely peaceful area, so she hikes to this private intimate hideout. Without even breaking a sweat, her smooth skin still glistens from the sun, further amplifying Lena's incredible natural beauty.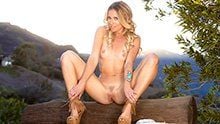 Removing her bra and exposing a pair of sexy hard nipples.
Watch as our dazzling girl slowly strips nude, dropping those panties to the ground. Undoubtedly, she's chosen a wonderful spot to unwind and privately masturbate. Truly, the only thing more magnificent than the ambiance is this gorgeous woman. Although, Lena's not done yet because she bends over seductively to pick the panties up, then launches them like a slingshot!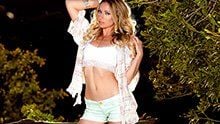 Attention quickly shifts to more important things, like Lena's pussy!
The radiant girl sits naked on a bench, which has a blanket spread out for comfort. Teasing us in multiple positions, she turns around so we can see a glimpse of her booty from behind. Like a nude goddess of the forest, this alluring babe is about to give viewers a solo sex show! Eventually, her erotic foreplay ceases and Lena gets down to business fingering that beautiful pussy.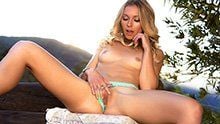 Who knew naked girls could be so unbelievably hot?
Progressing towards orgasm, you can visibly see how much hornier this girl is than when she began touching herself. In fact, it's so hot watching that pussy gush all those juices! Rubbing it in circles, the sexy nude woman pays extra attention to her sensitive clit. With every rotation, Lena Nicole moans in pleasure, only stopping to enjoy the taste of her soaking wet fingers.
Timestamps
Below are timestamps for easily navigating to sex positions in the scene.
Source of Porn Clips
Every video is from a premium porn source, and we've included info about adult stars in our clips.
Adult Star:

Lena Nicole

Premium Site:

Twistys

Full Movie Length:

9 Minutes