Anya Olsen is a hot, flirty girl with a naughty mind that craves adventure and almost always takes action on a whim. To prove it, this beautiful brunette tells us that she's had sex with two girls in addition to the countless men in her lifetime. A big grin slowly creeps across her face as the girl recounts a tale of her first sexual experience with another woman. "I fucking loved it!" she says while recalling the lesbian intimacy.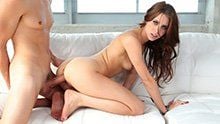 Back in her high school days Anya actually got kicked out for having sex!
"Yeah, I've had a lot of sex!" Anya mentions with a hand planted firmly underneath her chin. However, all this storytelling has made our girl notably horny, so the slender babe starts stripping nude by taking her shorts off! This is where the real foreplay begins since she's now laying naked on a couch in nothing but her panties. Teasing a man with her sexiness, Miss Olsen draws imaginary circles around her crotch, caressing that pussy underneath.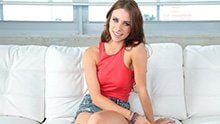 By the looks of it, she's attempting to lure this guy in for some fun.
Next, the girl bites her lip with a look of seduction on her face. Gazing at the man she's told all her sex stories to, Anya whispers to him, "Let's fuck…" But before he can do anything, this chick is already shimmying toward him to grab that cock! Straightening her back, she reaches into his pants with her long, manicured fingers, pulls out his throbbing dick, and begins stroking it.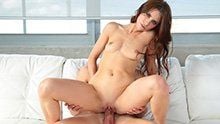 The naughty girl wants to make another memorable sex story, but with him!
Squealing with delight as he penetrates her pussy, Miss Olsen goes from riding to bouncing and more! In fact, she even gets in a good amount of nude humping. Honestly, this girl is so hysterically fucking him that she practically exerts herself during the process. That's when the guy takes control, laying Anya down to pound her in missionary position. While enjoying the feeling of submission, she eventually cums hard from their bare-naked sex!