Kimmy Granger looks breathtaking while walking down a staircase wearing a plaid bra with matching panties. In fact, she's the ideal model of a sexy petite girl. Not to mention, this chick's so tiny that it's almost shocking how she has such a firm ass and perky pair of tits. Swaying her hips back and forth, it's easy to see Kimmy's in a horny mood. During our sex video, viewers get a private nude treat for their eyes only!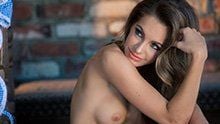 She slowly saunters down the stairs, dressed in only her underwear.
A frilly bra and panties are the only clothes that separate this babe from being completely naked. While she takes her sweet time moving down the steps, you can't help but notice how beautiful her hair and makeup is. Honestly, it's pretty apparent that Miss Granger has taken ages to make everything look perfect for today, like a girl trying to impress a hot date! Although, the only romance she's having tonight is between you and those fingers.
With powerful sexuality, Kimmy gives a cute smile, strikes a pose, then juts out that adorable ass. Next, she does a slow twirl and smacks it firmly, which causes her to emit a muffled, yet very sexual moan. Honestly, you can tell this girl loves having that ass grabbed, and she can't wait to put on a hot, steamy nude show!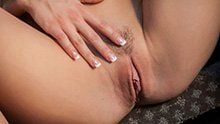 Looking straight at viewers, Kimmy takes off that frilly bra and panties.
Miss Grangers puts one of those slender legs up onto the railing and grabs her booty cheek from behind. Her panties outline that anxious pussy, practically begging to reveal itself. Kimmy asks, "Would you like to see more?" as she strips off the remainder of her clothes to get all the way naked.
Those exposed tits flaunt some seriously perky nipples, which are promptly pinched by the horny girl herself. Next, she gives them a nice shake and squeeze for her viewers to enjoy, then continues the nude show. This tiny, beautiful girl stretches those skinny thighs wide open, and we see a perfectly groomed pasture of pubic hair. Attention abruptly switches even lower when she presents a dripping wet pussy that has been hiding all along. In fact, it seems like Kimmy's anticipating stripping naked about as much as we want her to!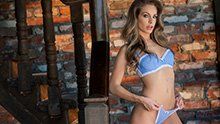 The naked girl rubs her pussy, masturbating with amazing intensity.
Little by little Miss Granger increases the velocity of her fingers, only slowing momentarily to massage her swelling clit. Our nude goddess trembles in pleasure as she touches herself, wiggling into different positions throughout this private sex scene.
Goosebumps all of a sudden spread along her body, and viewers hear the girl's moans as she has a powerful climax. "I'm… C-C-Cumming!" she sputters out while viciously shuddering from the intense orgasm. Overall, the only thing better than watching naked women cum is having sex with them yourself!
Timestamps
Below are timestamps for easily navigating to sex positions in the scene.
Source of Porn Clips
Every video is from a premium porn source, and we've included info about adult stars in our clips.
Adult Star:

Kimmy Granger

Premium Site:

Twistys

Full Movie Length:

10 Minutes