Emma Hix is a lovely young blonde with a lustful desire for cock. Where do hot girls like this learn their awesome sex skills? – She's not telling! But our babe here knows how to suck dick like a champion. And that's what the naked goddess is about to do with a man today! So let's jump right into these two's naughty, passionate sex video.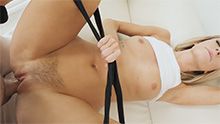 Sexy blonde girls know how to give the best blowjobs!
Miss Hix stimulates his whole cock at once by stroking its base, licking the tip, and fondling those balls. When the guy bends Emma over their couch to begin fucking her she mentions, "Oh my god! You made me so wet." Then our naked girl arches her back and twists that big ass to slide his dick in deeper. In fact, the rolling grip of Emma's tight pussy encourages the cum to shoot straight out of him. – Wow, this chick is good!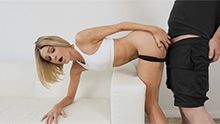 Grabbing the cushions and bouncing her nude body on him.
She gnaws on her own shoulder in a desperate attempt to watch that thick booty get fucked from behind. Honestly, the only thing matching this babe's sex skills is her horny eagerness to have that pussy pounded. "Spread my cheeks, baby!" Miss Hix tells him in a muffled voice while face down in their cushions. Then as he powerfully thrusts himself inside, Emma can't help but scream from the pleasure.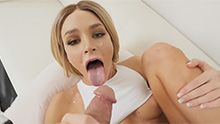 Still wearing those cute black panties around her juicy thighs.
Nude legs totally spread now, she stretches her panties to the max length they'll allow. This dude loves her submissive look and teases the girl's clit with his cock. Consequently, she moans and begs, "Use that dick and fuck me, please!" So he lifts Emma's knees all the way up to her tiny tits and plunges deeply back inside. "Keep going!" she screams, "I'm going to cum!" Finally, while rapidly rubbing her pussy, the naked girl has a quivering female orgasm.