Aubrey Sinclair is a chick that loves to play in the water almost as much as she likes to fuck. That's why this wet sex scene begins in the bathtub with our naked blonde babe splashing around. Eventually, she's greeted by her boyfriend who has an understandable fetish for nude girls. Since Aubrey likes her cocks squeaky clean, she proceeds to seductively wash him off with the bubbles from her tub before giving a nice wet blowjob.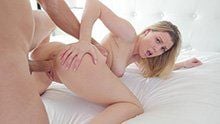 Aubrey is a beautiful blonde heartthrob with a gorgeous, naked body.
Teasing this gorgeous chick, he slightly slides his dick into her eager pussy but then immediately takes it right back out. All this edging causes Aubrey to groan with lust until he finally thrusts it in and starts fucking her. With those thick legs up high, she tosses her head back, allowing the man to take total sexual control. It's an attractive sight watching this young girl's tight pussy grip his cock as he coasts in and out of her.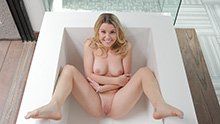 Holding her own big ass, she stares back at him while having sex.
If you thought it was hot watching this babe have sex in missionary, then nothing will top their next position. Using Aubrey's arm as leverage, he bangs his girlfriend from an amazing point-of-view angle. Honestly, it's actually breathtaking how perfect the lips of this girl's pussy are. In fact, no one in their right mind would say no to spending a night with a naked beauty like Miss Sinclair!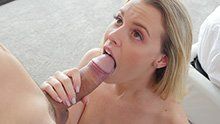 Have you ever seen a young woman this sexually captivating?
Mounted on top of him, Aubrey rides like a champion nude cowgirl, bouncing that superb white ass up and down. In addition, she's tenaciously holding her big booty with both hands so that dick can hit all the right spots, deep inside her delightful slit.
Looking up with puppy-dog eyes while jerking him off, Miss Sinclair licks and puckers her lips, mouth practically watering. Clearly, she can't wait for this guy to orgasm. As soon as our sex video queues that he's about to blow, Aubrey nodes her head, almost silently saying, "Do it baby, cum on my face." – which is exactly what he does!