Ever wish you had a stepsister as hot as Bailey Brooke? Because today, attraction quickly spirals out of control with her brother! While discussing each other's fantasies, he admits wanting to see our gorgeous girl naked. Then without hesitating, she instantly starts stripping and takes hold of his cock. Surprisingly, these two are about to make their dreams a reality!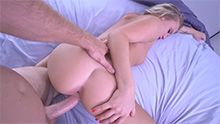 The nude blonde cutie tosses away his shorts.
Bailey says, "I'm really horny!" and she's ready to do something about it. First, this chick worships that huge dick then smiles and licks his loaded balls. However, that doesn't last for long since she opens her thighs to slide it into that groomed, hairy pussy. From the horny look on this girl's face, she can't wait to get banged in missionary position! On a side note, Miss Brooke looks so sexy laying there about to receive his manhood.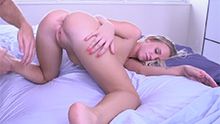 Grabbing his stepsister's hair while pounding her!
Those naked tits jiggle with each thrust, and our blushing babe only has the slightest bit of shame. But a moment of tenderness follows when they warmly kiss like natural lovers. Still making out, these two continue having sex while pressing their nudeness on each other. Finally, any worries of being caught by their parents slowly slip out of mind.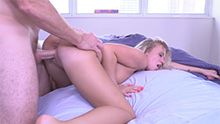 Miss Brooke looks so tasty while getting fucked.
On her side now, Bailey looks absolutely irresistible taunting us in the nude! She's totally submissive to her stepbrother as he slides into that pussy. Not to mention, this girl even bounces back on him, sending back more than a few thrusts of her own. Coming closer to orgasming now, he might even bust inside his stepsister. Why you may ask? Because they're fucking so hard the bed's squeaking!