Alice March stands in the bathroom naked without a clue that her horny stepbrother is peeking through the doorway. During his secretive spying, he sees an amazing view of his stepsister. Honestly, she's so hot it's almost understandable that this dude can't resist fantasizing about her beautiful nude body. Meanwhile, Alice innocently continues getting ready, but he eventually decides to walk in and surprise the girl!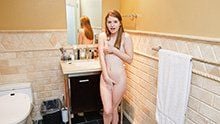 Almost ashamedly, Alice hesitantly agrees to have sex with him.
Like most stepsisters might, Alice initially shies away from his sexual advances. Although, after a good bit of convincing, she begins to ease up. Honestly, the wetness of her pussy doesn't lie as the girl stands there naked having her petite titties groped. As this chicks snatch becomes more and more slippery, she admits that all this attention is making her horny. Still thinking it's weird, the stepsister agrees to give him a blowjob.
Finally, she puts his throbbing dick in her tiny mouth but has trouble fitting his entire girth down her throat. Once it's all slobbered up, he decides it's time to lead Alice to the bed for more fun. When they arrive, all this dude can think about is how sexy his stepsister looks laying naked with her ass up, ready to fuck!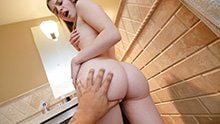 Knees on the edge of the bed, this nude girl's in a position to be penetrated.
Grabbing her by the hips, he guides that big ass into him, giving those pussy lips a chance to slowly ease into their sex. Breathing heavily, this girl can barely hold back moans while curling her fingers and holding onto the bedsheets tightly. Most of our sex video consists of Alice March bouncing on that cock in doggystyle position, which is honestly the best way to bang girls! In fact, their point-of-view sex is so incredibly hot that it's bound to make them both orgasm if it goes much longer.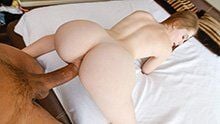 Riding on top is the most intimate way the stepsister can have sex with him.
Mounting him now, this babe continues lunging on his rod deeply. Sometimes she rocks back-and-forth, but Alice mostly claps that big ass against him, spreading those cheeks and divulging her booty in all its glory. Sounds of wet pussy hurling against a hard cock fill their room as these two engage in intimate stepsister sex. One last glimpse of this girl's face leaves him knowing that this won't be the last time he'll fuck his hot nude family member!