Dirty blonde teen, Marsha May has a massive craving for a huge cock, and today is her lucky day because she's found one that's big enough to satisfy her sexual appetite! This sex scene starts off with our teen beauty kneeling down, unzipping a guy's pants, and whipping out his dick. Using her tongue to lick his shaft, she works her way to the top, admiring it like a prized possession.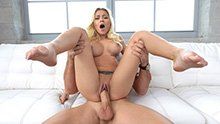 Marsha's hazel eyes gaze up while she cups his balls in her mouth.
This blowjob goddess uses both hands to stroke the base of his cock, strafing side to side from the shaft to the tip. Still dumbfounded at the size of it, Marsha compares it to her face, which really highlights the sheer massiveness of his girth. Trying her best to deepthroat, she moans as it taps the back of her throat. All she can say when her lips finally release from it is, "Oh my god… I want this dick inside me."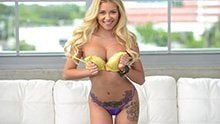 Flaunting her thick, tight ass from behind, the hot teen rides his cock.
Using both hands to stretch her pussy lips out wide, Marsha sits on that big dick and slowly lets it enter her. Posting up both hands on his legs, she skillfully uses his complete girth to satisfy herself. The teen pornstar twists and thrusts, letting out soft moans that erotically compliment her sexual maneuvers.
Moving to the couch, she lays face down with her ass up and begs for him to start having sex with her tight, teen pussy. Marsha moans even more wildly when he thrusts balls-deep into her, becoming increasingly louder while taking every inch of his cock!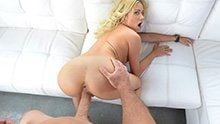 After being pounded from behind, this busty teen still wants more.
Mounting him in cowgirl position now, she begins riding the entirety of that dick. The guy rapidly fucks her from below as Marsha May blurts out, "Deeper, deeper!" This gorgeous teen has sex in about half a dozen different positions throughout the video. Finally, at the highest point of ecstasy, she sucks him off and desperately requests that he releases his cum all over her innocent face!
Timestamps
Below are timestamps for easily navigating to sex positions in the scene.
Source of Porn Clips
Every video is from a premium porn source, and we've included info about adult stars in our clips.