Adriana Chechik is one of the hottest nerds you'll ever see in an amateur porn video. Our sex clip starts off with this chick diligently completing homework on her bed wearing a cute outfit, knee-high socks, and some glasses to match. When her stepbrother comes into the bedroom it looks like he has worked up a sweat while playing volleyball. Unfortunately, his shower is broken so he asks to use hers. Miss Chechik kindly obliges, then sneaks in a quick, "Sure, you do look kind of hot!"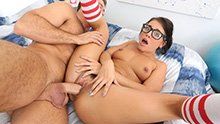 This girl seemingly has a crush on her attractive stepbrother.
After the guy goes into her bathroom to begin showering, Adriana has a few extra erotic ideas. She follows her stepbrother, peeking in at him as he's taking those athletic shorts off. Her jaw practically drops to the floor seeing that big cock flop out of those pants! Unable to hold back, our horny porn chick bursts into the bathroom and tries convincing him to have some amateur fun.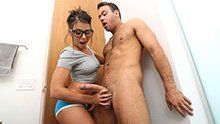 They scamper back to the end where they can have sex together!
While at first acting a bit shy, the dude finally submits to his stepsister when she grasps his dick in her hand and lightly strokes it. Losing all sense of decency now, Adriana drops down to her knees and slides that cock into her mouth! She gently sucks the head while it continues to grow and swell between her lips. Moments later, this guy is throbbing hard, ready to plow his stepsister like they're in an amateur porn video.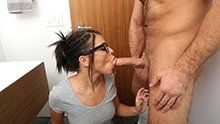 He tears his stepsisters booty shorts off and spreads her legs wide.
Adriana bends over the bed, ready to have that damp pussy pounded by the man's big cock. In fact, Miss Chechik's perfectly curved hips and perky, tanned boobs look absolutely jaw-dropping during this entire sex scene. Overall, the two amateurs have an amazing time together throughout this whole porn video, both reaching multiple climaxes as they fuck each other wildly!