MorningPleasure has one of the best ways to Netflix N' Chill by watching the hot YouTube star, PewDiePie! So to enjoy the moment, this girl lays down naked and begins eating a slice of pizza. But her boyfriend can't hold back from grabbing that ass when she's not paying attention. While it may be annoying, the hot dark-haired blonde slowly becomes aroused.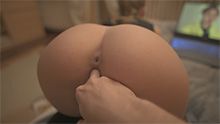 Are they about to bang in front of PewDiePie?
First, he cups the girl's pussy in his hand and works those powerful fingers through her panties. Once sliding deep into that cunt, MorningPleasure certainly likes it! However, she pretends to keep watching YouTube all nonchalantly. Then after this babe gets totally naked, attention shifts toward their upcoming sex. In fact, no one here cares about PewDiePie on the screen anymore. – Well, at least they don't!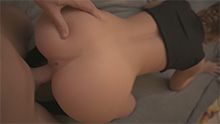 Hot girl seduces her boyfriend with goddess-like curves.
Wiggling her curvy ass seductively, the girl now seems quite horny. And with how seductive she looks, the boyfriend must be too! Next, this chick faces him, licks a finger, spreads those thighs, and plays with her wet pussy. The way her big tits hang while she masturbates looks so hot, which is enough to make his dick hard as a rock. Then our naked babe turns around to present that amazing booty for a slow, deep fuck.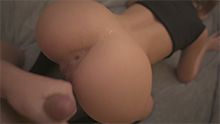 They shut the laptop off since it's time for sex!
Now this couple has started banging vigorously. And he can't resist pulling the girl's braided hair while thrusting from behind! Those thick nude cheeks clap as she gets relentlessly plowed. Furthermore, the whole bed keeps shaking and rattling. These two are no longer in chill-mode because their naked bodies slap together as if it's a workout. Within seconds, they're undoubtedly going to cum on each other!