At the beginning of this sex video, Karlee Grey catches her stepbrother smelling her panties, and he pleads for his stepsister to not tell their parents. Luckily, the girl agrees, but only if this dude admits why he was doing it. Therefore, she asks him, "Do you have a crush on me?" Well, it's obvious the answer is an undoubted… "Yes!" – Although, can you really blame him? Because with Karlee's perfect tits and big ass, everyone probably fantasizes about seeing this beautiful girl naked!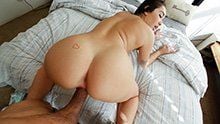 Is it just me or is his stepsister actually flirting with him?
The flattered stepsister mentions that his crush is cute, then asks him in a horny voice, "Would you like to see me nude?" while pulling down the straps of her tank top. Surprisingly, Karlee reveals her enormous natural tits, and she begins coaxing him to grab them. Sparks fly as he plays with this hot girl's naked nipples, actually giving his gorgeous stepsister an amazing boob massage!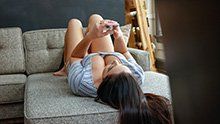 Karlee removes her blue denim shorts, revealing a secret heart tattoo.
After stripping fully nude, the girl drops to her knees, whips out this guy's huge dick and sloppily sucks on it. Not to mention, Karlee's eyes stare up at him while her cheeks indent like a vacuum on his shaft. In fact, it's as if she has wanted to blow her stepbrother's cock for longer than anticipated! Crawling onto the bed now, Miss Grey hangs that massive booty over the edge, giving this guy perfect access to bang that pussy.
Finally, he slides his dick in with ease since it's already rock-hard and lubed up from the blowjob she just gave him. This naked babe can't help but let out a deep, "Fuck…" when that cock enters her snatch.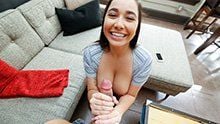 Once this girl lays down, viewers see an amazing view of that groomed pussy.
This sex video becomes even better when the couple movies into missionary position because Karlee's pussy has a perfect amount of pubic hair. In addition, the guy starts rubbing his stepsister's clit while he's fucking her to increase stimulation! Involuntarily jerking her pelvis up, she moans uncontrollably since this chick is close to orgasming.
He continues pounding her harder, and those beautiful naked tits sway with each thrust. All of a sudden, the nude girl says commandingly, "Cum inside me!" as this sex video fades to white.