Kelsi Monroe is a hot girl with a huge ass who loves to shake it. At the beginning of this sex video, she's on the couch twerking her booty with a mischievous grin on her face. The orange shorts she's wearing grip that thick body in all the right ways to make this a truly provocative sight. Next, Kelsi decides to show off how limber she is by stretching her legs and doing the splits in the most enticing way, bouncing her ass as if she's riding an invisible cock in the middle of stretching!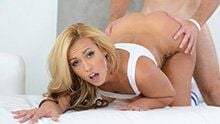 This guy has been watching his girlfriend shake her ass the entire time.
It's the last straw for Kelsi's boyfriend because he can't stand to only watch this gorgeous girl twerk for another moment. So this dude walks over, whips out his dick for the horny babe and that mischievous look she previously had on her face turns into a lustful grin. Next, the girl pops her top off and begins giving a blowjob, making sure to deepthroat it so far that her lips press against his pelvis!
Finally, the guy pulls this girls booty shorts down to reveal her bare naked ass. Those curves are so beautiful that Kelsi's silhouette alone could turn you on! Miss Monroe continues sucking her boyfriend's dick, but this time she wiggles her thick booty eagerly, suggesting that she wants to have sex. Luckily, the man seems to take the hint because motions for Kelsi to climb on top and grind on his cock.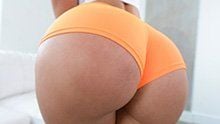 She wants to put all that twerking practice to good use!
This horny babe gives that juicy booty a few more shakes before sliding herself down onto his shaft. It slips right inside of her glimmering, wet pussy, and she lets out a muffled moan. Kelsi says, "Oh my god… Yeah!" while beginning to twerk that big naked ass up and down on his cock. Although this girls doing all the work, she still loves manually working on cock into the perfect spots inside herself. When he starts going harder, she really starts enjoying the sex, yelling out, "Fuck me, please. Don't stop! It feels so good!"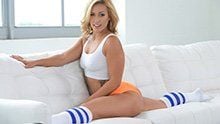 Kelsi has a sexy backside, but the front of this girls naked body is even hotter.
Miss Monroe spreads her thick, naked thighs wide while resting on the sofa, ready to be mounted in missionary position. Next, this man pounds our sexy babe hard, making sure to sexually stimulate his girlfriend to the fullest extent by rubbing her clit simultaneously. As the couple nears climax, this sex video fades to white and viewers hear Kelsi beg for his load by saying, "I want that cum all over my pretty little face!"
Timestamps
Below are timestamps for easily navigating to sex positions in the scene.
Source of Porn Clips
Every video is from a premium porn source, and we've included info about adult stars in our clips.
Adult Star:

Kelsi Monroe

Premium Site:

RealityKings

Full Movie Length:

35 Minutes