This sex clip starts out with Leah Gotti calling up her friend and asking him to come over. In a yearning voice, all she has to say is "I'm horny" and he eagerly accepts the invitation! After arriving, the girl shows off wearing a sexy swimsuit and seems to be slightly damp from just stepping out of the shower. However, Leah tells him that she wants to get 'even wetter' while playfully dragging this dude by the hand into her bedroom.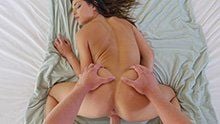 The horny girl wants to show him how amazing her naked body looks.
Miss Gotti strips off that skimpy swimsuit, uncovering a stunning view of this naked girl's curvy body. It's a sight for sore eyes as she puts down a towel, then gracefully lays on the bed like an angelic temptress. Joining her now, the man knows exactly what she needs. He begins to gently rub her clit, making those already moist pussy lips become completely drenched with her natural juices!
Completely overwhelmed with desire, Leah begs him to pleasure her, so he slowly inserts a finger into the naked girl's tight pussy. Furthermore, this guy continues his banging rhythm as the woman gently rubs her sensitive clit. Moaning while groping those big boobs, it looks like she's taking in every second of this sexual heaven.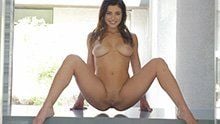 Our gorgeous nude babe decides to return the favor.
Barely holding back a smile, the sexy chick drops to her knees and grabs this dudes bulging cock. Stroking it with one hand, Leah begins giving an amazing blowjob by cupping the tip of his dick between her lips and licking in circles around it with her tongue. Eventually, the nude girl begins using two hands, fully stimulating the entire girth and sending it into a throbbing sensation!
This couple can't take it anymore, they absolutely need to have sex.
The naked woman hops back onto the bed, spreading those thick thighs and presenting that quivering pussy to her lover. As the couple is just about to start having sex in missionary position, Leah grabs his big cock, then slides it into that wet pussy herself. Honestly, you can tell the girl has been craving this man for a while because she immediately rubs her clit during penetration. Next, the guy grabs those airborne feet for stability as he rapidly pumps in and out of her. Accepting every inch of that huge dick, Miss Gotti moans loudly with each thrust she receives.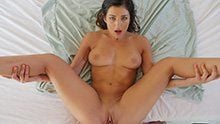 Leah bounces on that cock from on bottom – And on top!
Next, this insanely hot babe turns over and moves into doggystyle position. While getting pounded from behind, she reaches back to take hold of the man's arm. Still on her hands and knees, our naked chick takes control and rides that massive cock in long, sweeping motions. Miss Gotti lets out multiple huge, guttural moans, then loudly whispers, "Fuck yeah!" when at the brink of climax.
Leah shoves her man onto his back because she has to try bouncing on that big dick. Little does this babe know, it's going to send her into a wonderful spiral of orgasms! Finally, she mounts him and shows off her thick ass while riding like a cowgirl. The guy firmly grasps this girl's bare naked ass, and pleasure ensues as she passionately bounces on him. Leah screams out in lust, taking every inch of him and inevitably cumming!