Eva Lovia is the kind of girl that loves receiving a relaxing, deep tissue massage when she's stressed out. In fact, the past few days have been particularly stressful for her, so it's time to visit a "special" massage parlor – one where you strip completely naked! Walking into the room while grinning, Eva quietly sits rests on a table and slowly undresses for her nude rubdown.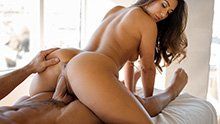 Once fully naked, Eva lays on the table, ready for the masseuse to enter.
When the masseuse joins her room, he's half-naked and showing off his ripped 6-pack abs. First, the man professionally lathers Eva up with oil and gets down to business. He sensually rubs her nude body, but primarily focuses on that beautiful pair of big tits. Working his way down to the girl's lower body, he pours more juices directly on the groomed patched of hair above her pussy.
Totally relaxed with an excited smile on her face, the girl watches him spread the oil, moistening those thighs and everywhere in between! From the way Eva Lovia bites her lip, you can tell she's mentally begging him to rub her quivering pussy.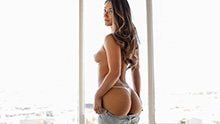 Flipping onto her stomach, she gives us an amazing view of that big nude ass.
Continuing the massage, he kneads the girls lower back while simultaneously rubbing her clit from behind. Eva adores the attention since before you know it, she's sucking the guy's cock while still laying on the table! Clearly, these two have a lot of sexual tension built up towards each other, and things continue to rapidly escalate. Next, she scoots her naked body into doggystyle position so he can easily slide that dick into her pussy.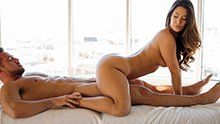 Miss Lovia orgasms while having passionate sex with him!
As he thrusts his cock inside that snatch, the horny naked girl moans and squeals in delight. Switching to a POV angle, our sex video zooms closer so viewers can see Eva's naked ass plowed from behind. Minutes later, she mounts him, then sports a seductive smile and an eager aura that's just so ridiculously hot. Rocking back and forth, Miss Lovia finally climaxes while riding him like a nude cowgirl!