Adriana Chechik has been waiting patiently for her husband to get home from work. As he walks through the door with roses in hand, she greets him wearing a concealing trench coat. Little does he know, his wife whipped up a special, kinky surprise! Finally, she removes the jacket to reveal her half-naked body in some sexy red and black lingerie. Coming closer now, the girl grabs him by the tie, elegantly drops to her knees, and massages his crotch through the outside of those pants.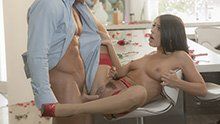 All this foreplay is simply previewing a taste of what's to come.
Squatting down in her erotic high heels, our horny woman sensually unbuckles his constraining trousers. In fact, Adriana can hardly contain herself while licking that bulge! When that throbbing hard cock is released, she immediately begins a blowjob. Deeply sucking the shaft like it's her biggest fantasy, this wife is giving some oral sex that he'll always remember.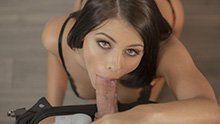 Moving to the kitchen counter now, the girl bends over, ready to fuck!
Swiping those black lace panties aside, the guy inserts that cock into Adriana's soaking wet pussy. When he pumps away, the girl's nude tits bounce with rhythm during every thrust. In fact, it seems to arouse her even more! Soon enough, Miss Chechik goes into missionary position and removes those lace panties, which reveals a perfectly groomed hairy pussy. He continues thrusting, and her eyelids droop from the ecstasy overtaking that naked body.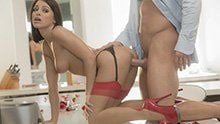 Climbing on top of the counter, the nude woman mounts her husband.
Adriana firmly places her hands on his thighs, providing a stable base to ride upon. Furthermore, you can hear the girls moans ring through the hallways of their house while making love in reverse cowgirl position. As the video comes to a close, his wife cries out, "Fuck me harder and deeper!" while she's ferociously pounded from behind. If you're into naked babes, then this sex scene will definitely have you begging for more to watch.
Timestamps
Below are timestamps for easily navigating to sex positions in the scene.
Source of Porn Clips
Every video is from a premium porn source, and we've included info about adult stars in our clips.
Adult Star:

Adriana Chechik

Premium Site:

Babes

Full Movie Length:

27 Minutes